Plaza Viva Retractable Roof
The ultimate textile pergola awning. Suitable for almost any weather conditions
Plaza Viva | Multi Function Innovation
Plaza Viva provides very reliable weather protection for your favourite outdoor space. Incredibly wind-resistant, it integrates subtly into the overall look of the building & provides Width x Projection to a (max.): 6 m x 5 m. It offers a highly practical feature for facades without enough load-bearing capacity to mount a folding arm awning.
Technical innovations such as the optional adjustable telescopic post, the OptiStretch version, integrated LED lighting and gear handle operated Valance Plus leave almost nothing to be desired.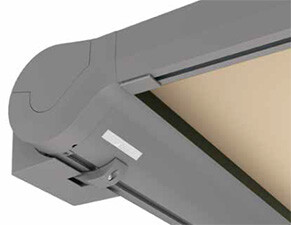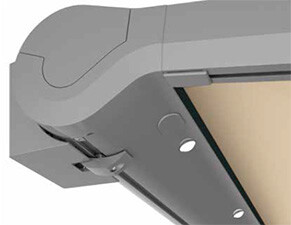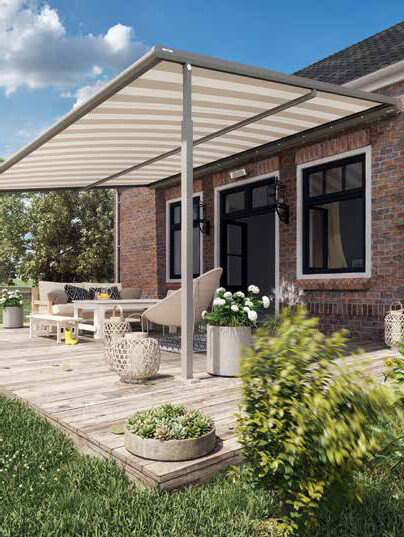 Awning Style:
Textile Pergola Awning | Protects the textile and mechanism from the elements
Max. Width x Projection:
6m x 5m
Max. Fabric Area:
30 m²
Options:
Stretch + Stretch LED + Opti Stretch + Opti Stretch LED
Valance Plus Option:
Max. Width: 6,000mm + Max. Projection (H): 1,000mm + 1,500mm + 2,100mm
Custom Colour Options:
47 Standard Frame Colours + 9 Trend Colours + 150 RAL Colours
Price Category:
Lowest to highest*


The Plaza Viva can be used to direct rain off one side when the optional telescopic post is ordered with the Retractable Roof system – See video of how this works here: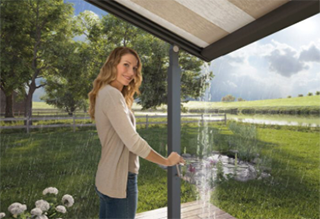 Optional telescopic post
So that rain water can drain off reliably from the Plaza Viva fabric, the optional telescopic post can be lowered using a gear handle to achieve the required pitch.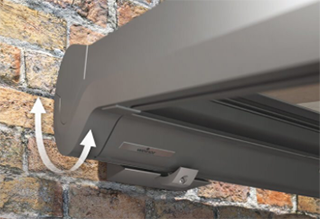 Bracket + Floating bearings
Wall bracket with floating bearing reduces the load on the whole construction when the optional telescopic post lowers the awning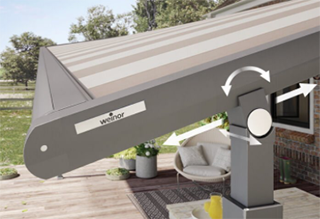 Compensation Joint
Thanks to the compensation joint on the telescopic post the awning construction can adjust flexibly to the new pitch when lowered.
Plaza Viva
|

Breakthrough Innovate

+

Function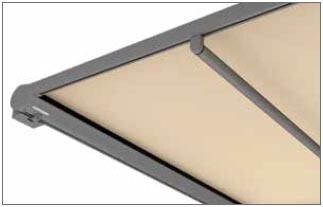 Fabric support roller | Bottom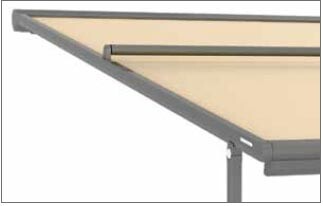 Fabric support roller | Top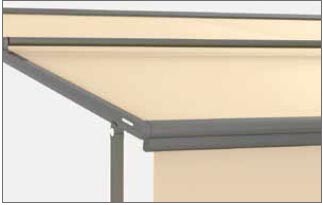 Top support + Valance Plus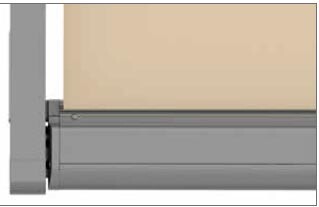 Stretch | Held securely on 2 sides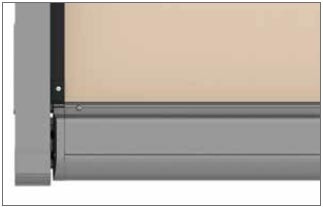 OptiStretch | Held securely on 4 sides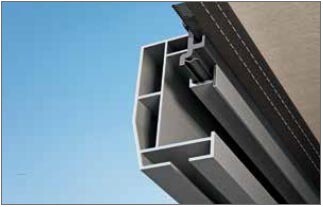 OptiStretch | Fully enclosed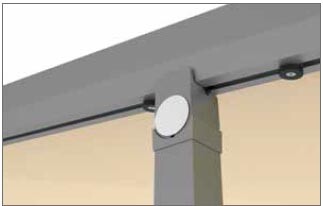 Upper post compensation joint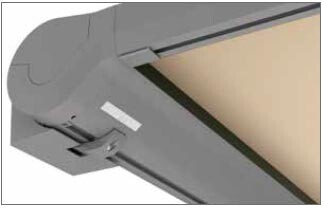 Wall bracket + floating bearing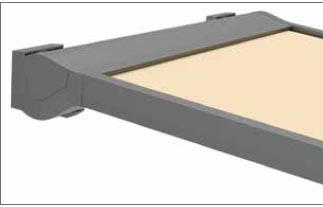 Elegant. No visible fixings
Plaza Viva| Product Features
Highly functional + Innovative technology:


Sun, wind and rain protection. Incredibly wind-resistant, integrating subtly into the overall look of the building


With Plaza Viva textile pergola awning, use your patio even longer with even less worries – virtually regardless of the weather


Designed for use on facades that don't have enough load-bearing capacity to mount a folding arm awning


Fully featured. Optional adjustable telescopic post, OptiStretch, integrated LED lighting & gear handle operated Valance Plus
Textile pergola awning features:


Large areas can be covered – thanks to the sturdy posts and framework


New: telescopic post option for effective water drainage



Compensation joint and floating bearing


Reliable tension system – with new flat rope for quiet operation


Stretch and OptiStretch versions


Service opening hatch – convenient access for maintenance


Atmospheric LED spotlights – for the ultimate environment after dark
Plaza Viva | Valance Plus option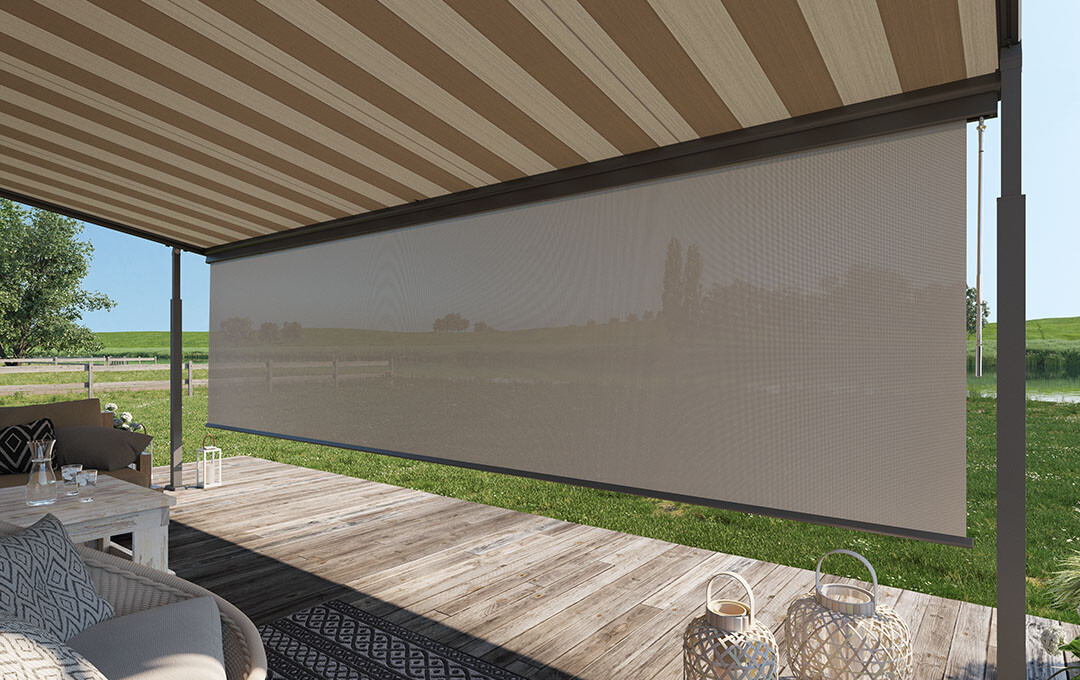 Valance Plus option | Privacy and sun protection from the front

The gear handle operated vertical sun protection is integrated elegantly into the Plaza Viva drop profile.


Glare protection and privacy protection up to a maximum valance height of 210cm


Only possible with gear drive, only extend and retract the Valance Plus with the telescopic post cranked up


Valance Plus use up to a Plaza Viva pitch of 4° to 20°.


With Valance Plus, the fabric support roller is always mounted


Can be combined optionally with the LED Design light bar | Not possible in combination with integrated LED lighting


Note: Valance Plus can not be retrofitted
Plaza Viva| Stretch + OptiStretch option
Stretch


Provides an extremely even tautness to the fabric positioning and performance.


Stretch option is held very securely on 2 sides. This option is cost effective and an easy installation.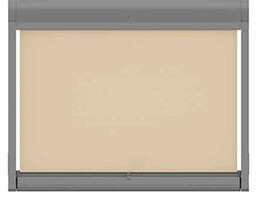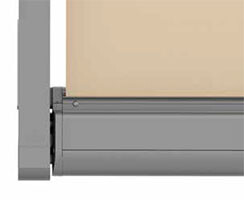 Held securely on 2 sides. Cost effective solution.
OptiStretch


Completely enclosed all round, ensures optimum fabric positioning without any hanging or saggy fabric edges


On very large dimensions it also reduces the sag of the cover during operation.


Held tightly at the top and bottom. secure on all sides eliminating all lightgaps.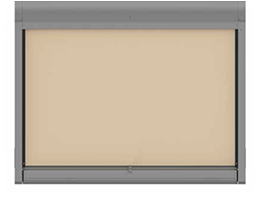 Held securely on 4 sides. No light gap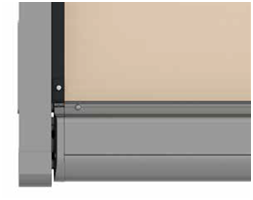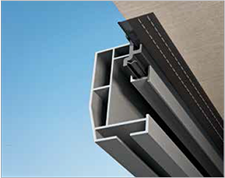 OptiStretch functionality.
Weinor Options |
Design Your Custom System
Weinor offers a range of options for customers to design their custom patio system. With a variety of materials and colours to choose from, you can create a personalised outdoor space that perfectly complements your home and style.
Weinor | My Collections 2
My Collections 2 is Weinor's new fabric range consisting of 3 different colour collections and ways. It's a huge range of 143 new-release colour patterns for you to select from. Weinor fabric quality and the manufacturing process are exceptional. Weinor fabrics are made from polyester or acrylic and are solution dyed for superior colour fastness. High-quality pigments are stored in each individual fibre.
The result: especially good colour fastness and high UV resistance. Colours remain lastingly brilliant. This makes Weinor fabrics stand out from products made by other manufacturers, where only the finished yarn is dyed. Thanks to the Teflon fabric coating and state-of-the-art nano technology, the surface is resistant to oil, water, dirt and prevents rot.

Weinor | Modern Basics Blue® | Sustainable Fabrics
16 New On-Trend Designer Fabrics. The new fabric collection from the Weinor design studio comprises 16 on-trend awning fabric designs in the latest trend colours. The fabrics impress due to their high quality and lasting, brilliant colour. Sustainability for the environmentally conscious customer seeking more than just a durable quality product. Modern Basics | Blue unique fabrics are made with GRS-certified 85% recycled PET fabric.

Weinor | Trend + RAL colours
Colours and shapes take on different meanings in a natural environment. They serve as warnings, camouflage or courtship.
For us people, colours and shapes also perform another function: they are a source of pleasure! Our houses and patios only really develop their own character when colour is applied, a character that reflects our personal taste.
Design and colour play a significant role in adding character and personalisation to our homes and patios. They serve a functional purpose and bring joy and pleasure to those who live in them. By incorporating colour, living spaces truly come to life and showcase individual tastes and preferences.

Weinor | Integrated LED Spotlights + LED Lightbars
Weinor LED light bars for awnings are the perfect lighting solution for any patio or entertaining outdoor space. Not only do they meet the primary need of lighting an area so you can continue to enjoy your space long after the sun has set — they are long-lasting, eco-friendly and cost-saving.
These small lights can pack a real punch while still being pleasant to the eye and creating a beautiful ambience. Although they project the same amount of light as a 20-watt halogen, they have a lovely warm white light and use 85% less energy. The LED light bars come in over 200 frame colours and can be installed anywhere and retrofitted. You can also opt for the RGB LED strip lights that offer 48 colours and 3 whites.

Weinor | Tempura + Tempura Quadrata | Instant Heat Infrared Heaters
Maximise your investment. Extend and enjoy comfortable outdoor living all year round through even the coldest months with Weinor's innovative Tempura and Tempura Quadra heating systems. Simple mount or easy retrofit.
The heater's infrared rays generate instant heat and a pleasant warmth to the body as soon as the system is switched on. Infrared heat is constant, not reduced, lost or blown away with a breeze - as occurs with gas and electric heaters, resulting in a far more effective and cost saving use of the generated heat. Smallest size, maximum instant retained heat & lowest operating costs. Sort of a no brainer.
Tempura is a stylish round design and the Tempura Quadra offers a more architectural square design.

Weinor Exclusive Fabric + Frame Colours.
Download the Plaza Viva brochure containing all product details and and full technical specifications.
International Awards for Innovation + Design Excellence


Quite simply, the world's finest Motorisation range.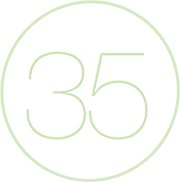 Motorisation Specialists for 35+ Years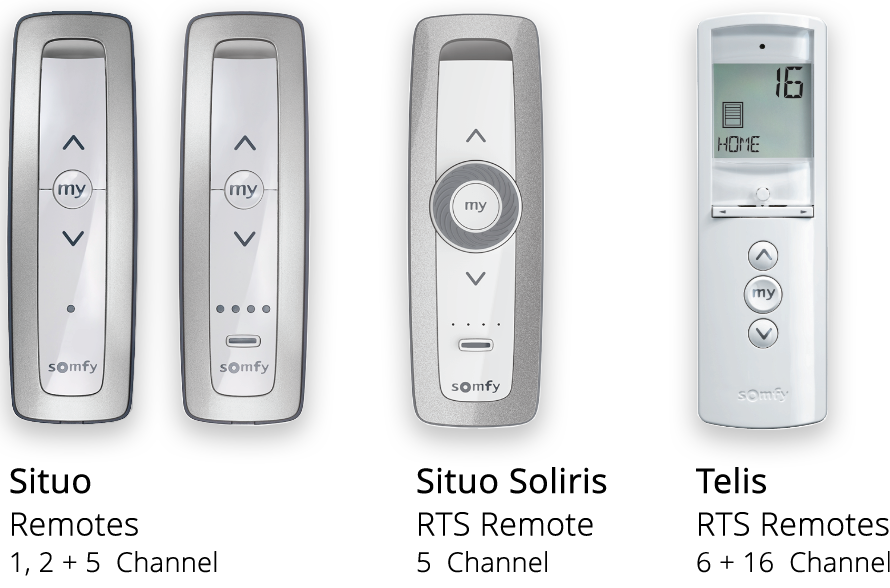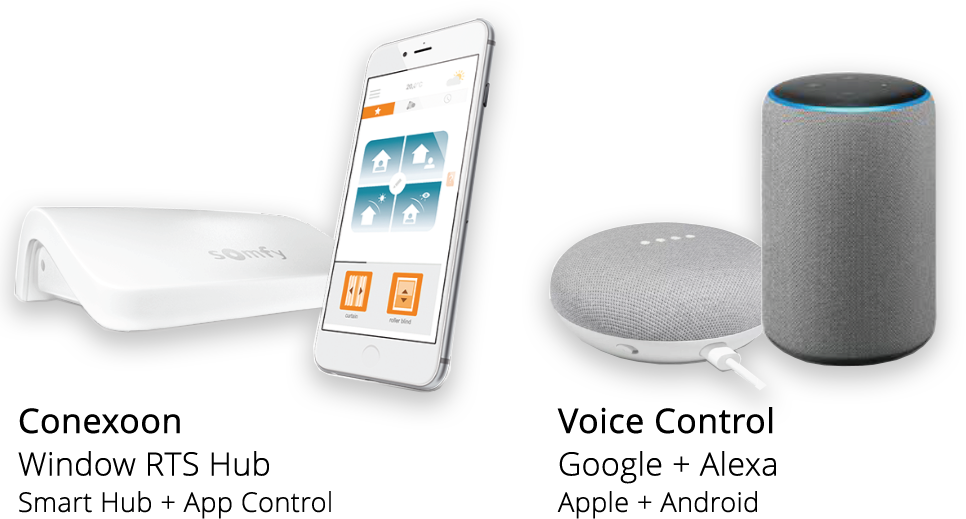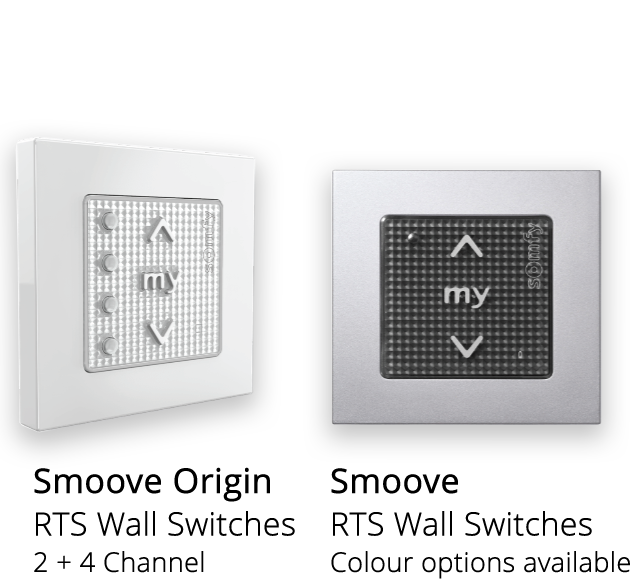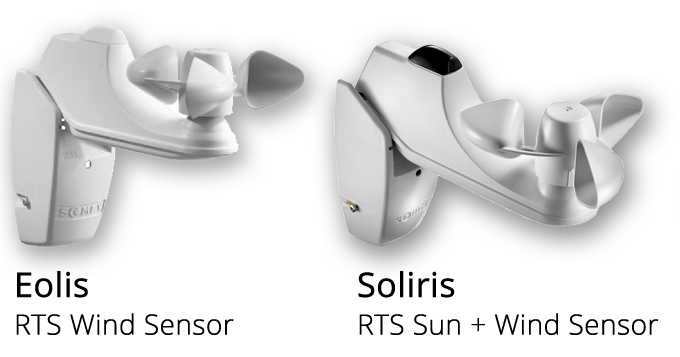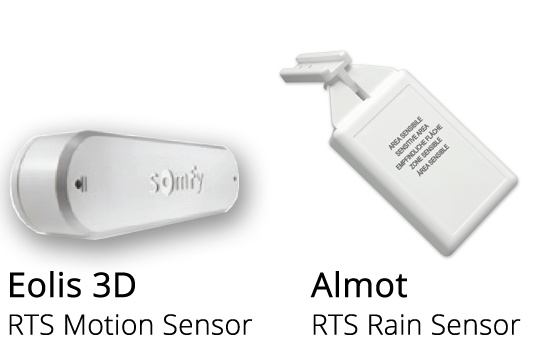 Our extensive Somfy experience ensures our residential & commercial clients will make the best choices & be assured of a perfect motorised solution.

Exceptional Quality + Build Standards
We take great pride in our exceptional quality and build standards. Our LED lighting for exterior awnings and LED strip lights are rigorously tested to ensure they meet our stringent standards for durability and functionality. This commitment to quality sets us apart and provides our customers with peace of mind knowing they are investing in a product that will last.