Plaza Viva | Multi Function Innovation
Plaza Viva provides very reliable weather protection for your favourite outdoor space. Incredibly wind-resistant, it integrates subtly into the overall look of the building & provides Width x Projection to a (max.): 6 m x 5 m. It offers a highly practical feature for facades without enough load-bearing capacity to mount a folding arm awning.
Technical innovations such as the optional adjustable telescopic post, the OptiStretch version, integrated LED lighting and gear handle operated Valance Plus leave almost nothing to be desired.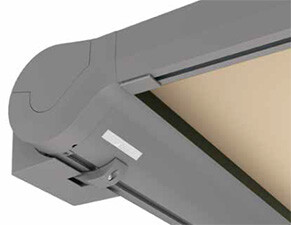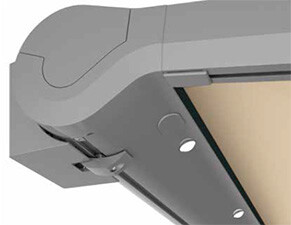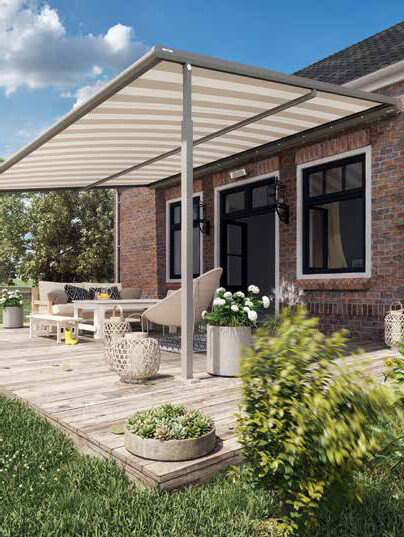 Awning Style:
Textile Pergola Awning | Protects the textile and mechanism from the elements
Max. Width x Projection:
6m x 5m
Max. Fabric Area:
30 m²
Options:
Stretch + Stretch LED + Opti Stretch + Opti Stretch LED
Valance Plus Option:
Max. Width: 6,000mm + Max. Projection (H): 1,000mm + 1,500mm + 2,100mm
Custom Colour Options:
47 Standard Frame Colours + 9 Trend Colours + 150 RAL Colours
Price Category:
Lowest to highest*


The Plaza Viva can be used to direct rain off one side when the optional telescopic post is ordered with the Retractable Roof system – See video of how this works here: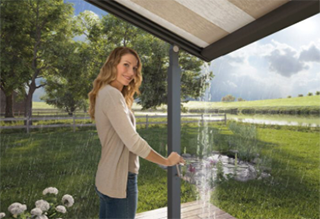 Optional telescopic post
So that rain water can drain off reliably from the Plaza Viva fabric, the optional telescopic post can be lowered using a gear handle to achieve the required pitch.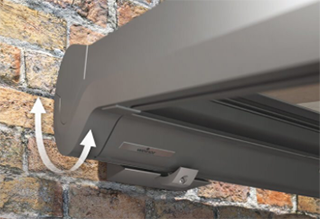 Bracket + Floating bearings
Wall bracket with floating bearing reduces the load on the whole construction when the optional telescopic post lowers the awning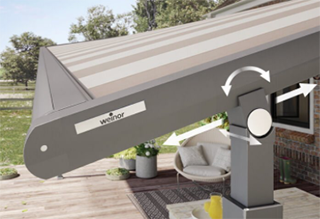 Compensation Joint
Thanks to the compensation joint on the telescopic post the awning construction can adjust flexibly to the new pitch when lowered.
Plaza Viva
|

Breakthrough Innovate

+

Function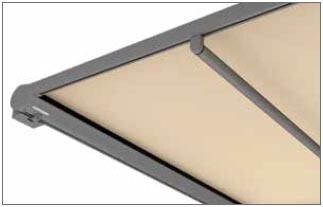 Fabric support roller | Bottom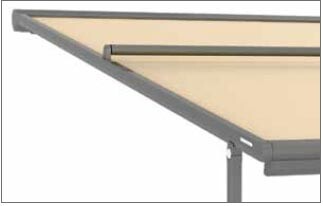 Fabric support roller | Top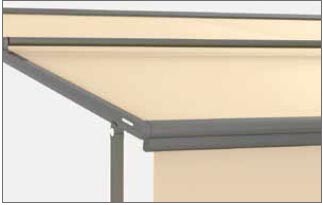 Top support + Valance Plus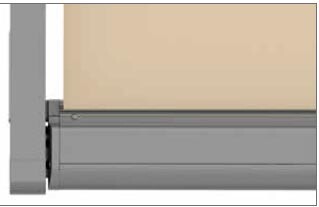 Stretch | Held securely on 2 sides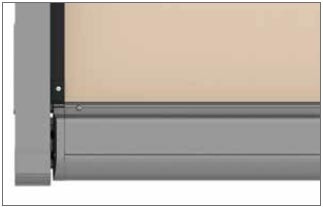 OptiStretch | Held securely on 4 sides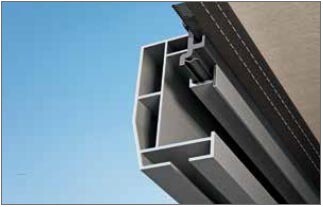 OptiStretch | Fully enclosed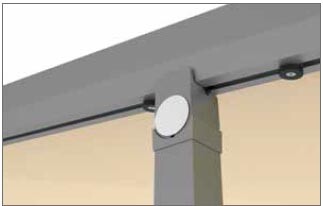 Upper post compensation joint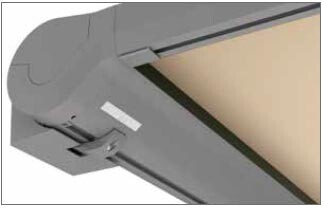 Wall bracket + floating bearing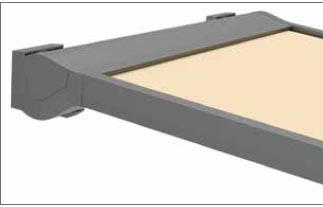 Elegant. No visible fixings
Plaza Viva| Product Features
Highly functional + Innovative technology:


Sun, wind and rain protection. Incredibly wind-resistant, integrating subtly into the overall look of the building


With Plaza Viva textile pergola awning, use your patio even longer with even less worries – virtually regardless of the weather


Designed for use on facades that don't have enough load-bearing capacity to mount a folding arm awning


Fully featured. Optional adjustable telescopic post, OptiStretch, integrated LED lighting & gear handle operated Valance Plus
Textile pergola awning features:


Large areas can be covered – thanks to the sturdy posts and framework


New: telescopic post option for effective water drainage


Compensation joint and floating bearing


Reliable tension system – with new flat rope for quiet operation


Stretch and OptiStretch versions


Service opening hatch – convenient access for maintenance


Atmospheric LED spotlights – for the ultimate environment after dark
Plaza Viva | Valance Plus option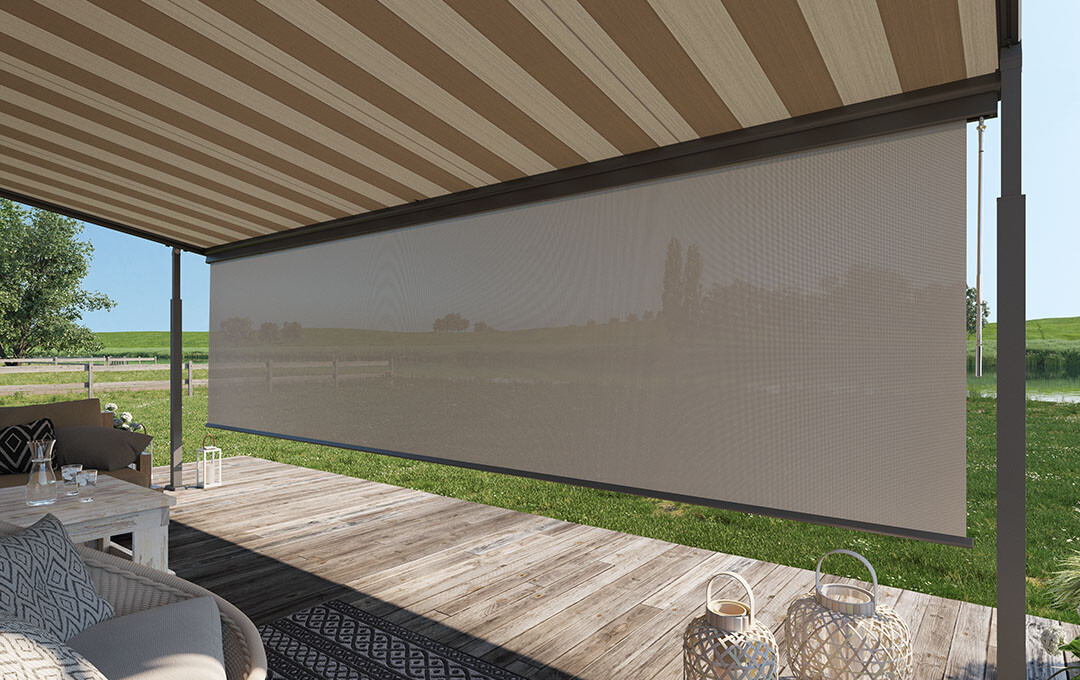 Valance Plus option | Privacy and sun protection from the front

The gear handle operated vertical sun protection is integrated elegantly into the Plaza Viva drop profile.


Glare protection and privacy protection up to a maximum valance height of 210cm


Only possible with gear drive, only extend and retract the Valance Plus with the telescopic post cranked up


Valance Plus use up to a Plaza Viva pitch of 4° to 20°.


With Valance Plus, the fabric support roller is always mounted


Can be combined optionally with the LED Design light bar | Not possible in combination with integrated LED lighting


Note: Valance Plus can not be retrofitted
Plaza Viva| Stretch + OptiStretch option
Stretch


Provides an extremely even tautness to the fabric positioning and performance.


Stretch option is held very securely on 2 sides. This option is cost effective and an easy installation.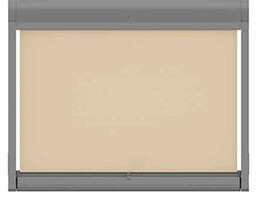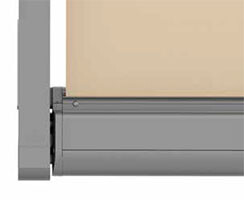 Held securely on 2 sides. Cost effective solution.
OptiStretch


Completely enclosed all round, ensures optimum fabric positioning without any hanging or saggy fabric edges


On very large dimensions it also reduces the sag of the cover during operation.


Held tightly at the top and bottom. secure on all sides eliminating all lightgaps.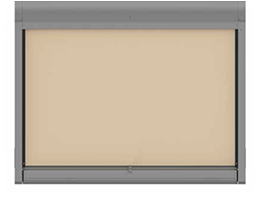 Held securely on 4 sides. No light gap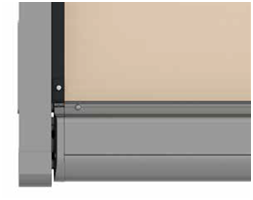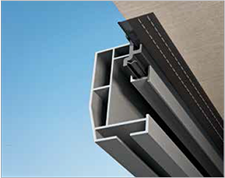 OptiStretch functionality.
Weinor Exclusive Fabric + Frame Colours.
Special collection fabrics
Weinor | My Collections
My Collections, is Weinor's new fabric range consisting of 3 different colour collections and ways.It's a huge range of 143 new release colours patterns for you to select from. Weinor fabric quality and the manufacturing process is exceptional. Weinor fabrics are made from polyester or acrylic and are solution dyed for a superior colour fastness. High-quality pigments are stored in each individual fibre.
The result: especially good colour fastness and high UV resistance. Colours remain lastingly brilliant. This makes Weinor fabrics stand out from products made by other manufacturers where only the finished yarn is dyed. Thanks to the Teflon fabric coating and state-of-the-art nano technology, the surface is resistant to oil, water, dirt and prevents rot.

Download the Plaza Viva brochure containing all product details and and full technical specifications.
Somfy Motorisation. Cutting edge technology
Finest quality incorporating cutting edge technology

Touch of a button convenience

Range of controllers & switching offering great flexibility

Can control multiple blinds & awnings from one controller

Add sensors & timing to operate while away

Energy efficiency by controlling heat & light entering

Smooth & controlled movement ensures longer life

Quiet, sophisticated & discreet operation. Impress guests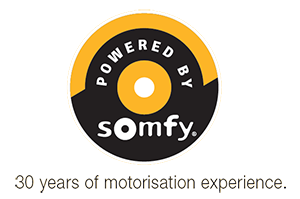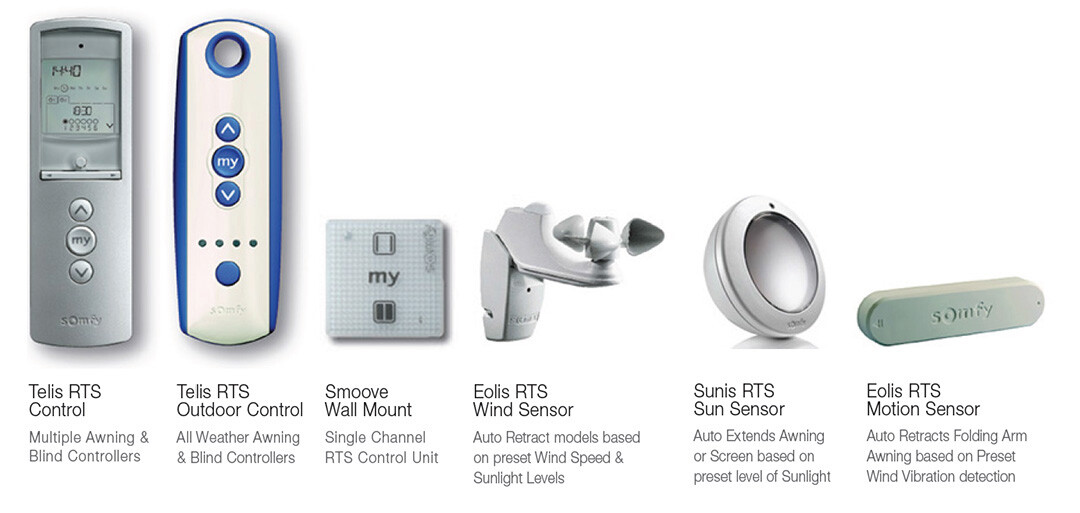 Exceptional Quality + Build Standards
Blinds by Peter Meyer use only the finest components:
Cutting edge technology & build quality
Backed by Peter Meyer's 5 year warranty
Plus the Peter Meyer renowned level of service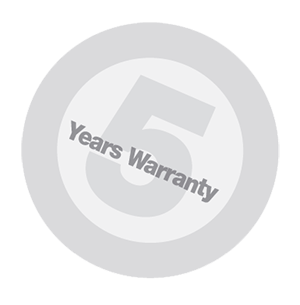 JOIN OUR NEWSLETTERS
New Product launches, trends are more.