Weinor Exclusive Awning Fabrics
Weinor's extensive selection of high quality German fabrics.
Weinor.

143 New release colours and patterns to choose from

My Collections, is Weinor's new fabric range consisting of 3 different colour collections and ways.It's a huge range of 143 new release colours patterns for you to select from. Weinor fabric quality and the manufacturing process is exceptional. Weinor fabrics are made from polyester or acrylic and are solution dyed for a superior colour fastness. High-quality pigments are stored in each individual fibre.
The result: especially good colour fastness and high UV resistance. Colours remain lastingly brilliant. This makes Weinor fabrics stand out from products made by other manufacturers where only the finished yarn is dyed. Thanks to the Teflon fabric coating and state-of-the-art nano technology, the surface is resistant to oil, water, dirt and prevents rot.
Weinor Exclusive Fabric + Frame Colours.
Weinor Exterior Fabrics Features

Hi-Clean
The innovative nano-finish on Weinor fabrics causes dirt to bead up and simply roll off.

Oeko-Tex
The OEKO-TEX Standard 100 environmental standard ensures that no substances are contained in Weinor's fabrics that might  be harmful to people or the environment.

UPF 50+
With a maximum UV protection factor of UPF 50+, Weinor's fabrics offer the best-possible protection from ultraviolet tradiation. Depending on the colour of the fabric, between 93% and 99.9% of all UV rays can be filtered.

Eco
Weinor fabrics can lower the temperature of a living space by 20% if dark colours are used, by 20% to 30% if medium-dark
colours are used, and by 30% if light colours are used.
Weinor Exclusive Fabrics | Downloads
Exceptional Quality + Build Standards
Blinds by Peter Meyer & Weinor ensure:
Weinor cutting edge technology & build quality
Backed by Peter Meyer's 5 year warranty
Plus the Peter Meyer renowned level of service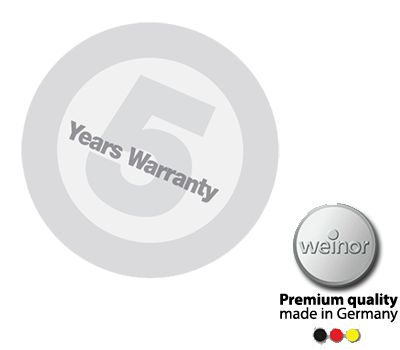 JOIN OUR NEWSLETTERS
New Product launches, trends are more.