Silent Gliss | Cord Operated Curtain Tracks
The world's finest cord operated curtain tracks. Unprecedented silence
Flexible operation with the sound of silence.
The SG 3840 cord operated curtain track aivoids the need to touch the curtain fabric. The track is suitable for all fabric weights, including heavier, lined curtains as well as inaccessable curtains. The cord operated curtain track meets the needs of both domestic and commercial installations, including hotels, retail, restaurants and public spaces.
Unobtrusive, elegant and smooth operation whilst meetingall Australian child safety standards. Durable and maintenance free, cord drawn curtain tracks can be bent for curved applications and are available in standard or Wave options. Available Australia wide.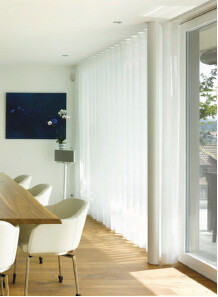 SG 3840
Cord Operated Curtain Track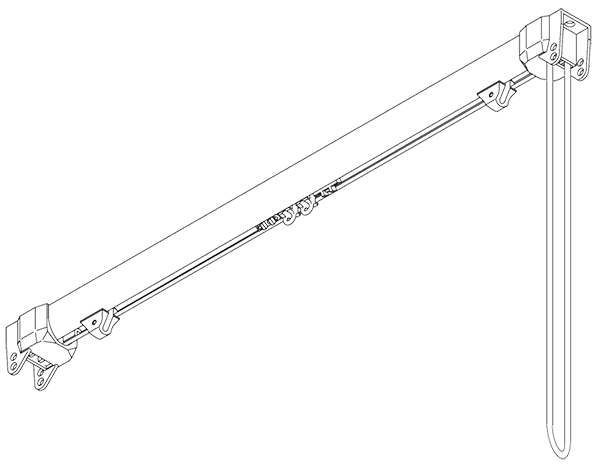 Application:
• Medium duty cord drawn curtain track
Product information:
• 2C glider technology. The sound of silence (More)
• Standard or Wave (60mm or 80mm glider spacings available) headings – roller gliders also available for heavier curtains with standard headings.
•  Ideal in a top fix situation as it looks the same from both sides with no visible fixings.
•  Bendable in both directions – 200mm minimum radius.
•  Available in natural anodized or white powdercoat finish.
•  Brackets available for top, face or extended face fixing (dual track fixing is also available).
•  Child safe. Complies fully with all Australian Safety Standards.
•  Joinable
Colours:
• Available in natural anodised or white powdercoat finish.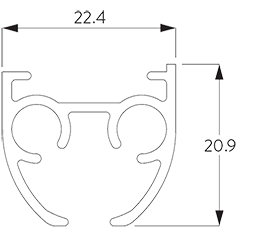 Radius: Std. Heading 25cm + Wave > 25cm
SG 3840 | Cord Operated Track Showcase

Combining new coated tracks with our
new two component technology – 2C gliders.
The premium 2C gliders and rollers (patent pending), combined with the specially coated tracks
allow the curtain to move smoothly and silently. These gliders are manufactured using 2 materials,
a hard component which ensures stability and a soft 'filling' to absorb the noise. The end result is
unprecedented silence.
New 2C Glider Technology.
A combination of two high quality materials designed as Hard & Soft components,
Hard component for stability and perfect gliding.
Soft component combination absorbs noise emissions.
Designed for wave cord.
Patent pending.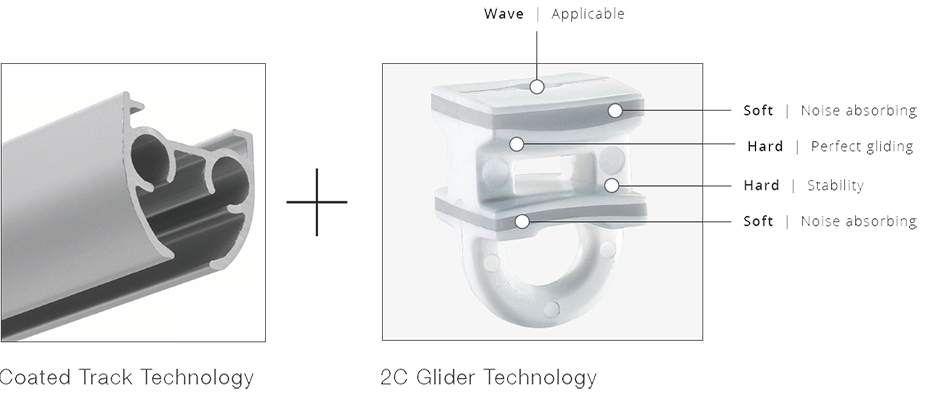 2C Technology | The Sound of Silence | See how the technology works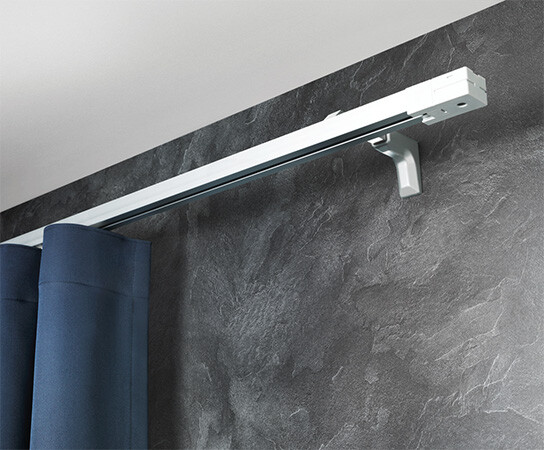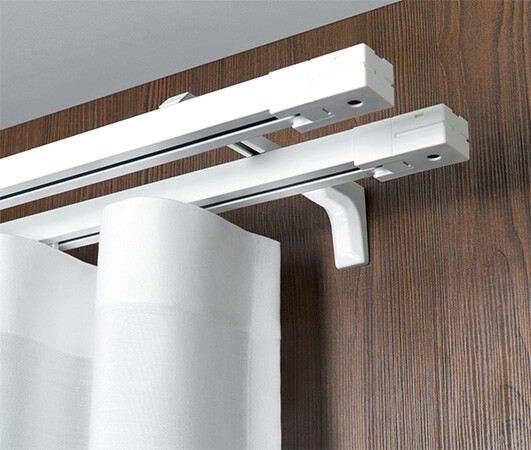 Smart Fix | Product Information
• Smart Fix offers the ultimate flexibility and ease of installation.
• Modern, versatile design:
• Silent Gliss systems can now be f itted with Smart Fix, a uniform bracket range for use across all our systems.
• This new design includes magnetic metal covers which are easy to fit and elegantly hide the screws.
• Smart Fix replaces a total of 51 brackets and significantly reduces the range to only 22 brackets! options (3 brackets with slot).
• Can also be flush ceiling mounted when paired with matching recessed profile

Square Smart Fix
• Contemporary designed brackets with a lower down-stand, ideal if fitting space is limited.
• A total of 9 brackets including fixed length and adjustable options (3 brackets with slot).
Universal Smart Fix
• A bracket console with 3 different extension arms for ultimate flexibility and adjustability.

Download:
• Smart Fix Brochure
Exceptional Quality + Build Standards
We take great pride in our exceptional quality and build standards. Our LED lighting for exterior awnings and LED strip lights are rigorously tested to ensure they meet our stringent standards for durability and functionality. This commitment to quality sets us apart and provides our customers with peace of mind knowing they are investing in a product that will last.