Weinor Folding Arm Awnings
German quality, precision and cutting edge technology.
Weinor Full Cassette Awnings
This is the top of our range of Folding Arm Awnings. The neat style of a full Cassette is unique. It hides and protects your awning while adding a design element to your awning. The Weinor full Cassette offering is the best on the market. Somfy RTS (remote controlled) motorisation is a must to complete these elegant outdoor awnings but most can also be crank operated.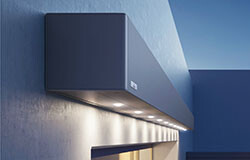 Kubata + Kubata LED
Kubata's crisp, minimal cubic cassette shape provides an exceptional style element for the most contemporary of facades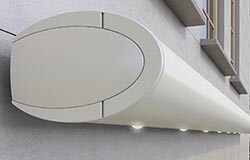 Opal II + Opal II LED
The new Opal Design II cassette awning stands out for its timeless, classic design hand in hand with groundbreaking Weinor technology.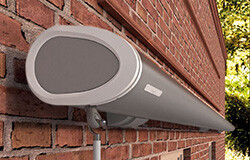 Semina LIfe
A very versatile full cassette awning combining a crisp stainless steel aesthetic with Weinor's cutting edge technology.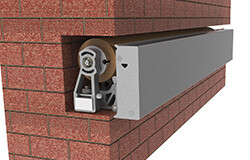 I+K+N2000
With a range of mounting options, I+K+N2000 full cassette awning can be used almost anywhere.
Weinor Open Awnings
If you are installing your retractable awning under an eave or building overhang your awning doesn't need maximum protection, (the overhang forms its own protection from the elements), and will allow  the  open style retractable awning  to work well for you. It is also a more cost effective option. We tend to motorise folding arm awnings but we can also offer these crank operated. You certainly don't get the ease of operation, however the Open style awnings crank operated is generally ordered when budget is your main consideration. They still encompass all of the high quality aspects of the full cassette/Semi-cassette retractable awnings but as they are a more open style awning.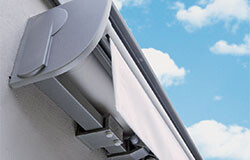 Topas Open Awning
An affordable gem for everyone!  Small, compact, variable is the best way to describe this entry model made by Weinor.
Weinor Semi-Cassette Awning
As the name suggests, this falls between a Full Cassette and an Open Awning. The Weinor Semi Cassette offers excellent fabric protection, a totally unique look and the ability to use an LED light bar. The Weinor Semi Cassette simply looks great! Motorised Awnings are a standard but we can also make these crank operated.
JOIN OUR NEWSLETTERS
New Product launches, trends are more.