Teknica 2000 |
Cable Guide Straight Drop Exterior Roller Awning
Sleek and simple with a modern aesthetic, suitable for most applications, this is our most popular exterior screen blind.
Use with or without a head box, the superior quality stainless steel cables guides allow the blind to be raised and lowered without the blind blowing in the breeze. Designed to be either up or down, the optional locking bolts make this a very versatile product.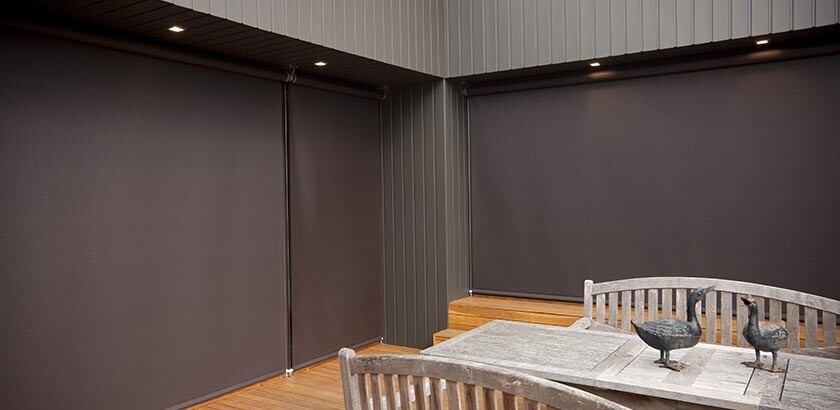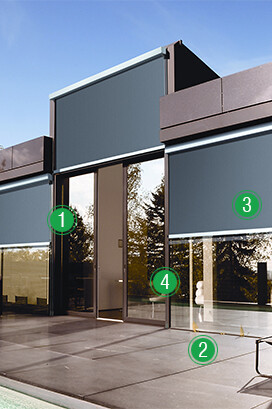 Size & Application

Maximum Width: 5m or
Maximum Drop: 4m (up to max. 16 sq.m)


Style: Exterior Roller | Cable Guide
Suitability: Windows + Balconies + Alfresco Dining Rooms
Secure: Locking Bolts
Best for: Sun + UV protection,   use where channels are not suitable.
Fabrics: Huge Collection of Sunscreens incl. Soltis, Everview, Mermet Solmatiz, Mode Outlook, & Sunworker. Also Acrylic  Canvas fabrics. Most fabrics available by request.
Standard Powder Coat Colour options


1. Free Moving Cable Guide End Caps
By floating in and out of the bottom rail the awning operates smoothly without putting pressure on the cable.
2. Locking Bolts
Simply inserts into the universal floor& wall mount bracket to hold the fabric taut & minimises bottom rail movement.
3. Hold Down Straps
Used to hold the awning down at various points across the width. Also offers a no guide system & is simply locked into place via straps. Similar to locking bolts, hold down clips insert inside bottom rail for a clean bottom rail finish.
4. High Quality Cables
Cables are high tensile 2.5mm 316 grade marine stainless steel, making them perfect for coastal applications.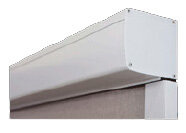 Closed Headbox
Encapsulates the fabric from external elements such as rain, UV and, fragments, which assists in keeping the fabric clean and enhances longevity.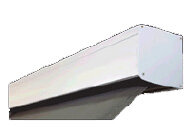 Open Headbox
Increase air circulation around the roller minimising heat build up for PVC skins. (Ideal for the Pivot Arm Awning but can  also be used in front rolled Cable Guide and Straight Drop Awnings)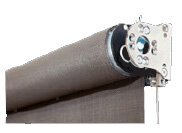 Open Roller
A modern industrial look for the ideal choice to reduce cost.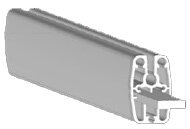 Weight Bar
The heavy duty bottom rail has been designed to offer an additional weight bar, this is beneficial for smaller awnings that require further weight to reduce bottom rail bounce and increase fabric tension.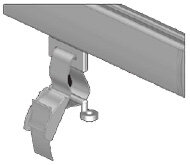 Hold Down Strap
Hold down straps can be used to hold the awning down at various points across the width of the awning. This option also offers a traditional no guide system where the awning is simply locked into place via straps. Similar to the locking bolts, the hold down clips also insert inside the bottom rail for a clean bottom rail finish.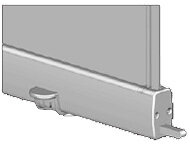 Locking Bolt
The locking bolt secures the awning into the side channel base cable bracket or breeching staple.

Pile Brush and Valance
As experienced in a number of Australian homes, the floor surface is often not perfectly level. Therefore when an awning is installed over a wide width there will be room for: light gaps, insects, debris, wind and rain to enter your courtyard or home. With the ability to insert either pile brush or a fabric valance, this gap canbe eliminated therefore maximising the functionality of the awning. In addition to the protection offered by these inserts they also protect the bottom rail from chipping if dropped to the ground quickly and changing the overall look of the awning based on the valance style chosen.
Fabrics

Air flow
If you are enclosing a verandah or patio, consider if you still want to have a nice cool breeze coming through. If this is required ensure to select a open weave fabric with around 10% openness.
Privacy and view through
There are open and closed weave awning fabrics. Consider if you want day or night time privacy. A open weave fabric with in a dark colour gives fantastic view through in the day, but also allows others to see in at night.
Durability
Be mindful that when a fabric is outdoors it is exposed to the elements. Fabrics with Sanitized® Antimicrobial Protection or DURAGUARD® Protection keeps odours away, protects against the development of bacteria, resists stains and stops mildew and fungi build up ensuring freshness in your home.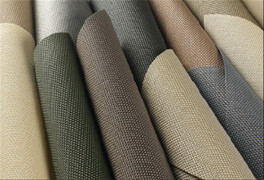 Colour fastness
Ensure the fabric you choose has excellent fade resistance to the sun. Any fabric with fade resistance result of 6 and above is reptiable and will ensure your fabric remains the colour you selected for many years to come.
a. Mesh
b. Canvas
c. Acrylic

Manual Crank The geared crank ensures easy operation that is not dependant on your strength. Available in a selection of Black, Grey and White for colour co-ordination. The geared crank handles are available in: 800mm, 1200mm, 1600mm, 2000mm and 2400mm lengths to suit any awnings height.

Motorisation
Control your awning with a touch of a button with motorisation. The Solare Teknica range can be used with the latest Automatic Tensioning Motors that permit awnings to be locked in position (with strap or sliding bolt) and tensioned. This maintains tension on the fabric minimising fabric "blow outs" traditionally caused by unexpected high winds.
Download our brochures containing all product details and and full technical specifications.


Quite simply, the world's finest Motorisation range.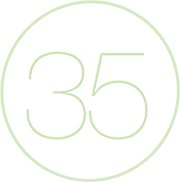 Motorisation Specialists for 35+ Years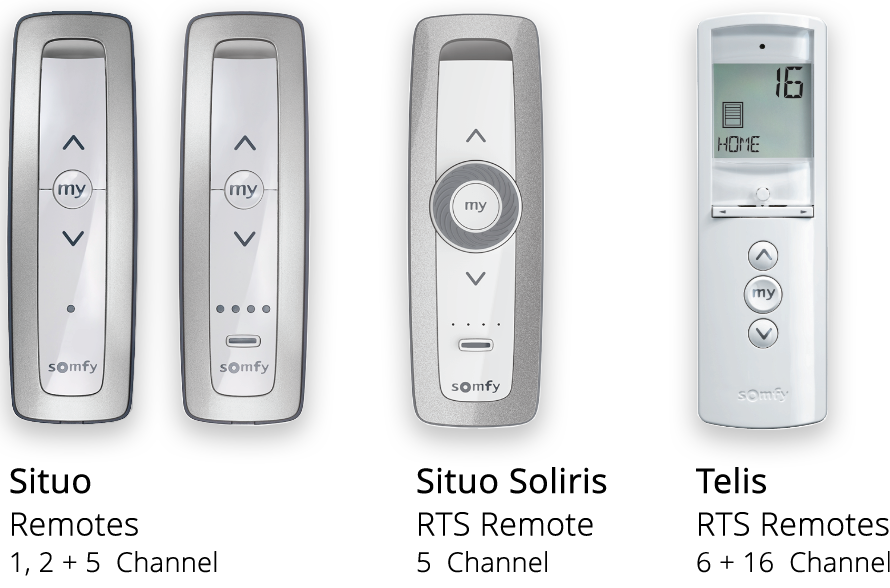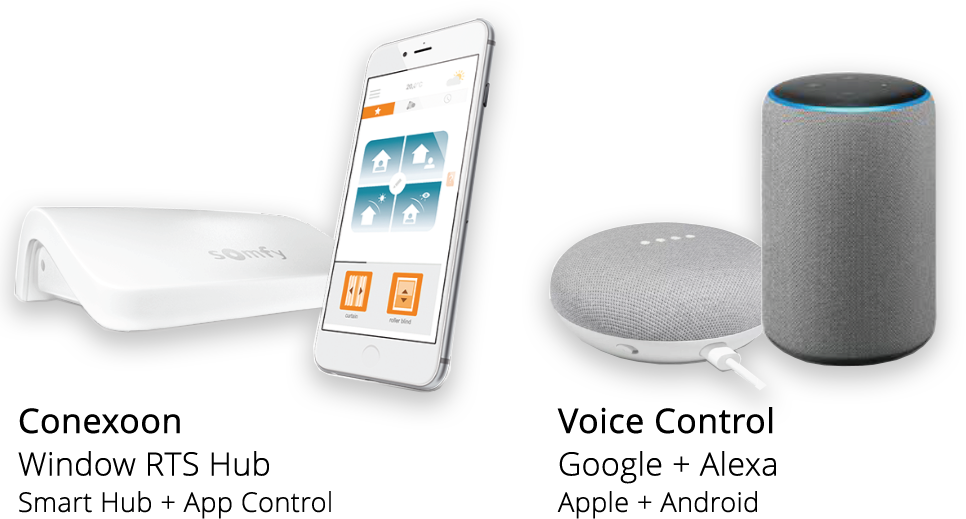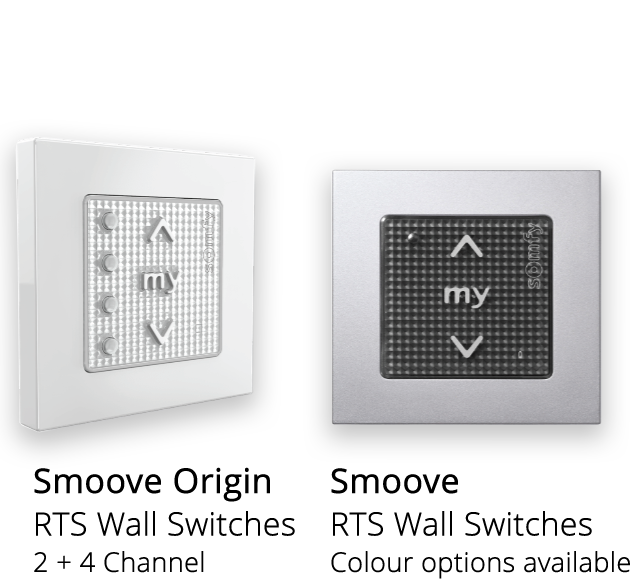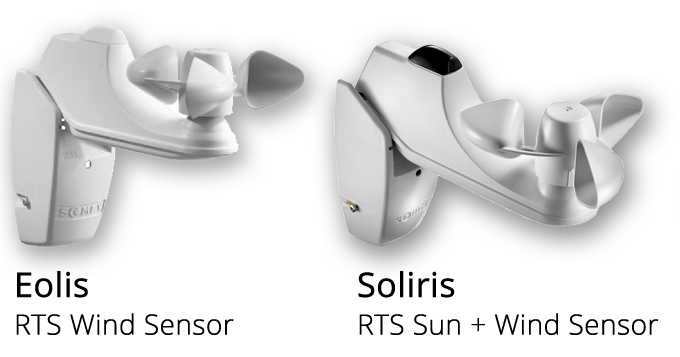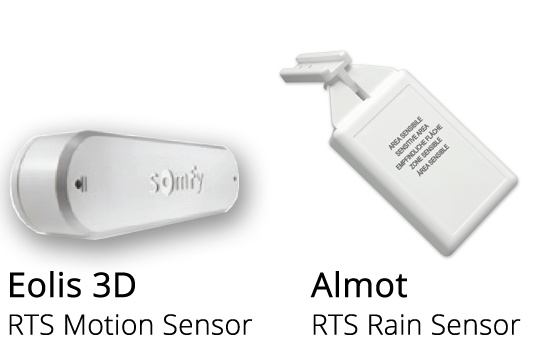 Our extensive Somfy experience ensures our residential & commercial clients will make the best choices & be assured of a perfect motorised solution.

Exceptional Quality + Build Standards
We take great pride in our exceptional quality and build standards. Our LED lighting for exterior awnings and LED strip lights are rigorously tested to ensure they meet our stringent standards for durability and functionality. This commitment to quality sets us apart and provides our customers with peace of mind knowing they are investing in a product that will last.