Honeycomb Cellular Blinds
Elegant, energy efficient designer Blind + Skylight systems.
Honeycomb Cellular Blinds + Skylights
Simply Cell is highly energy efficient Honeycomb Cellular blind system. Available in a range of innovative systems: Pre-Tensioned + Freehanging + Skylight as well as special shapes. The sleek, minimalistic 20mm designer blinds with small stack heights fit small recesses and offer a design solution to compliment most residential + commercial architural styles. The new Honeycomb fabric release has 190 new on-trend designer colours + patterns in a wide range of light filtering & day/night options.
Shangri-La is a really quite special cellular blind. An exquisite fabric with inner veins encased with a delicate sheer voile front and back.
Both ranges offer a selection of manual & motorised operating systems.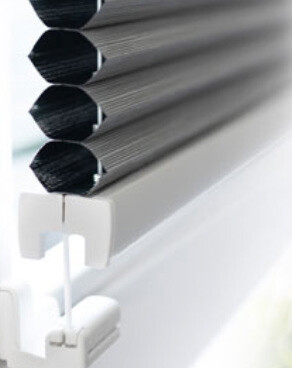 New

| Simply Cell | Honeycomb Blind System + Fabrics
Shangri-La | Cellular Blinds | Sheer Voile Fabrics
FAQs About Cellular Blinds
Features & Benefits of Cellular Blinds
Cellular blinds, also sometimes referred to as honeycomb blinds, come with multiple attractive benefits. These include quality insulation, complete control over-filtered light, cutting costs on energy bills, made to measure custom blinds, and a sleek attractive window covering.
What are Cellular Blinds?
Cellular Blinds are a type of indoor window covering that provides a range of benefits. 
During both Summer and Winter heat can penetrate glass, cellular blinds can have a dramatic impact on insulating your home. 
There is no better performing window blind on the market than a Cellular Blind or Honeycomb blind when it comes to insulation.
How to clean Cellular Honeycomb Blinds?
The best way to clean your cellular blinds would be by using a very light feather duster or the soft brush applicator if you have one on your vacuum cleaner.
Regular dusting will help ensure your blind's quality and endurance. Never use a wet cloth on your cellular blinds, a damp cloth may be used on heavy-duty fabrics.
What are Cellular Blinds made of?
Cellular Blinds are made from a soft cloth-like material such as spun lace or bonded polyester are used. Generally all quality Cellular fabrics are 100% polyester.
Our custom made cellular blinds come with a range of material options in order to best suit your home.
Where to buy Cellular Blinds?
When purchasing your Cellular Blinds, Blinds by Peter Meyer is the perfect place to start looking. 
Get in touch with one of our friendly team members by phone on 1800 254 631 or via email at sales@petermeyerblinds.com.au
How much do Cellular Blinds cost?
For a specific price estimate, we must take specific measurements and specific material and customisation into mind.
Please contact us to request a quote for the cellular blinds that you are interested in. If you have any questions
How to install Cellular Blinds?
There are a few different ways to install cellular Blinds, however, the most advantageous option is to simply install your Cellular Blinds in the window recess.
Mounting on the window frame, on the beading of the window bar, or with bracket holders are other options available to each client.
How to remove Cellular Blinds?
To remove your Cellular Blinds we recommend discussing the process with us during the installation process.
For any questions regarding installation or removal, please contact us at your own convenience.
Are Cellular Blinds waterproof?
Your cellular blinds should not be installed in rooms where dampness or steam regularly occurs as Honeycomb Cellular blinds are not completely waterproof.
It is recommended that cellular blinds are not installed in bathrooms or laundries.
Can you see through Cellular Blinds at night?
When closed Cellular Blinds provide complete privacy, even at night time.
Choosing cellular blinds are a popular choice for those wanting especially when their blinds are closed.
Unlike other screen blinds, Cellular Blinds provide total privacy for you and your family.
Blinds by Peter Meyer also offer a sheer range of fabric in our Cellular fabric collection.
Do Cellular Blinds really insulate?
In one word, yes, they really do insulate.
Because of the way cellular blinds are constructed there are small pockets that can hold and trap air, creating a barrier between your house and the glass surface.
When installed correctly, Cellular blinds should fit perfectly inside your window which also contributes to insulation and protection from the sun.
Which Cellular Blinds are best?
When it comes to which cellular blind is best, that comes down to the customer's needs and the design of their windows and doors.
We provide a large selection of custom cellular blinds, these options are outlined in our brochures that can be found on our website.
Honeycomb Blinds: Affordable, Functional and Stylish Window Coverings
Finding the perfect window coverings can be difficult, but custom cellular blinds – also known as honeycomb blinds – are one great choice you'll never regret.
Honeycomb Blinds offer fantastic functionality, versatility and appearance, exactly what you need to take your home to the next level. As a bonus, they also offer a variety of attractive benefits, including:
There is no better performing window blind than a Honeycomb blind with insulative capabilities that help cut the cost of your energy bills
Greater control over light input with block out, light filtering and sheer fabrics
Sleek and silent maneuverability
Custom styles to match your unique look
Our custom-made honeycomb blinds are the perfect solution for windows of any size and shape and in almost every space. Want to learn more about honeycomb blinds? We answer some of the most frequently asked questions below.
FAQs
What are honeycomb blinds?
Honeycomb blinds are window coverings constructed from soft materials (usually polyester) and intended for indoor use.
They're often made from one continuous piece of fabric that's folded and bonded to create unique pleats and cells.
How much do honeycomb blinds cost?
Because we build our blinds according to your specific needs, we don't take a "one-price-fits-all" approach.
We offer a detailed quote for your custom honeycomb blinds after taking specific measurements and discerning the materials and customisation you have in mind.
Are honeycomb blinds any good?
Good quality Honeycomb blinds are not only good but they are the most energy efficient style of blind on the market.
The honeycomb fabric forms an air pocket which is extremely good at keeping your home insulated against both heat and cold.
There are a lot of good quality honeycomb blinds on the market but make sure you look for quality. There are a lot of imported inferior quality versions on the market which have proven to not last! Germany produced some great quality systems as its most popular window style sold.
Blinds by Peter Meyer sells the most popular honeycomb custom made blinds throughout Germany and has the widest selection of fabric and blind styles on the market including Shaped Blinds, Chain operated blinds, Skylight blinds, motorised blinds, normal free hang blinds and shaped honeycomb blinds.
Are cellular shades better than blinds?
A Cellular Shade is another style of a blind. They are certainly very compact and there is no better insulating style of blind or shade on the market than a honeycomb blind.
How much do honeycomb blinds cost?
In regards to costs, the Cellular blinds do tend to be more costly but you certainly get what you pay for! There is a lot more material and labour that goes into making a honeycomb blind compared to say a roller blind. They will also save you more on your heating and cooling bills compared to any other blind style.
What is the difference between honeycomb and cellular shades?
That's a simple one, it's just another name for the same style of product group.
Some people call them Honeycomb blinds after the shape the fabric makes when it is lowered down.
The name cellular is also a name that relates to the shape the fabric makes when it's lowered.
How long do honeycomb shades last?
Like any blind style, when looked after properly, you should get many years of life our of your window shade.
Buying a quality honeycomb shade is the key to getting value for money, Buy it once and buy it right.
Always look for a good warranty. Blinds by Peter Meyer offers a 5 year warranty on their Simply Cell + Pleat range of honeycomb and Pleated blinds.
Do honeycomb blinds keep heat out?
Most certainly, in fact, they are the most efficient blind style on the market for keeping heat out and cold in. 
Insulation is the key selling feature of a honeycomb blinds and there are different fabrics out there that will form 2 cells side by side or one inside the other, each forming more a more insulation than the single cell versions.
How do honeycomb blinds work?
Honeycomb blinds work by trapping an air pocket between 2 layers of fabric.
This air pocket forms a barrier against heat and cold transferring through fabric. Basically it slows down the heat loss of heat gain process much more than any other blind style.
This is why honeycomb blinds are known to be the best insulating blinds available on the market.
How do you get mold out of honeycomb blinds?
As there are many different honeycomb fabrics available on the market we always suggest leaving this up to the experts.
The last thing you want to do is damage an expensive fabric or leave a visible watermark. There are plenty of blind cleaning companies out in the market that will be able to clean your blinds safely.
Can cellular shades get wet?
No, We certainly wouldn't recommend allowing an internal blind to get wet!
It's best to leave the cleaning up to the professional and never leave your blind down in front of an open window.
Can you steam clean cellular shades?
Once again, some fabric probably will perform OK but always refer back to the manufacturer for details on how to clean your specific fabric.
Also, if in doubt, call in the professionals. Someone like Amazing clean has franchises around Australia and will be great at bringing your blinds back to life!
JOIN OUR NEWSLETTERS
New Product launches, trends are more.