The Paravento Side Screen is a sophisticated solution offering protection from intense sunlight and chilly breezes. This stylish side awning not only ensures privacy at an affordable price but also boasts a lightweight yet sturdy design, making it adaptable to nearly any setting.
Paravento is more than just a privacy screen; it's a statement of elegance, especially when paired with Weinor's wide array of fabrics. Choose from a selection of textile options that combine aesthetics and utility. Paravento represents a contemporary substitute for traditional fixed structures like walls, fences, and garden hedges, allowing for versatility in both form and function.

Size & Application
The system is available with casing heights of 127.5 cm, 187.5 cm and  250 cm.
Parvento Side Panels Showcase
Paravento Side Screen Benefits
Our side screen that not only looks good but also disappears into an elegant cassette when not needed is called the Paravento. The side screen provides maximum protection from prying eyes as well as from unpleasant winds.

Exclusive high quality all-weather fabric can be chosen from the weinor collection.

In winter the cassette can be removed easily.        

>

The Paravento awning complies with the requirements of wind resistance class shown on the CE-conformity marking.
Paravento German Precision & Quality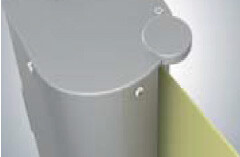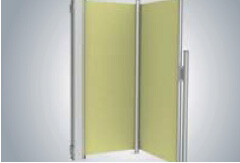 Corner Post Functionality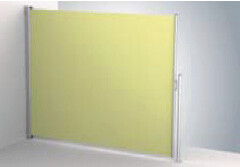 Robust. For High Fabric Tension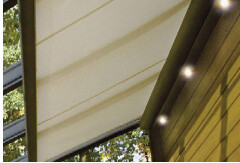 Energy saving LED Light Bars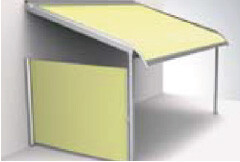 Perfect Compliment to Awnings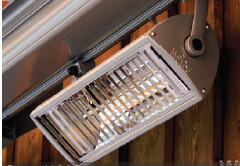 Tempura Heating – full heat in 2 seconds
Weinor Options |
Design Your Custom System
Weinor offers a range of options for customers to design their custom patio system. With a variety of materials and colours to choose from, you can create a personalised outdoor space that perfectly complements your home and style.
Weinor | My Collections 2
My Collections 2 is Weinor's new fabric range consisting of 3 different colour collections and ways. It's a huge range of 143 new-release colour patterns for you to select from. Weinor fabric quality and the manufacturing process are exceptional. Weinor fabrics are made from polyester or acrylic and are solution dyed for superior colour fastness. High-quality pigments are stored in each individual fibre.
The result: especially good colour fastness and high UV resistance. Colours remain lastingly brilliant. This makes Weinor fabrics stand out from products made by other manufacturers, where only the finished yarn is dyed. Thanks to the Teflon fabric coating and state-of-the-art nano technology, the surface is resistant to oil, water, dirt and prevents rot.

Weinor | Modern Basics Blue® | Sustainable Fabrics
16 New On-Trend Designer Fabrics. The new fabric collection from the Weinor design studio comprises 16 on-trend awning fabric designs in the latest trend colours. The fabrics impress due to their high quality and lasting, brilliant colour. Sustainability for the environmentally conscious customer seeking more than just a durable quality product. Modern Basics | Blue unique fabrics are made with GRS-certified 85% recycled PET fabric.

Weinor | Trend + RAL colours
Colours and shapes take on different meanings in a natural environment. They serve as warnings, camouflage or courtship.
For us people, colours and shapes also perform another function: they are a source of pleasure! Our houses and patios only really develop their own character when colour is applied, a character that reflects our personal taste.
Design and colour play a significant role in adding character and personalisation to our homes and patios. They serve a functional purpose and bring joy and pleasure to those who live in them. By incorporating colour, living spaces truly come to life and showcase individual tastes and preferences.

Weinor | Integrated LED Spotlights + LED Lightbars
Weinor LED light bars for awnings are the perfect lighting solution for any patio or entertaining outdoor space. Not only do they meet the primary need of lighting an area so you can continue to enjoy your space long after the sun has set — they are long-lasting, eco-friendly and cost-saving.
These small lights can pack a real punch while still being pleasant to the eye and creating a beautiful ambience. Although they project the same amount of light as a 20-watt halogen, they have a lovely warm white light and use 85% less energy. The LED light bars come in over 200 frame colours and can be installed anywhere and retrofitted. You can also opt for the RGB LED strip lights that offer 48 colours and 3 whites.

Weinor | Tempura + Tempura Quadrata | Instant Heat Infrared Heaters
Maximise your investment. Extend and enjoy comfortable outdoor living all year round through even the coldest months with Weinor's innovative Tempura and Tempura Quadra heating systems. Simple mount or easy retrofit.
The heater's infrared rays generate instant heat and a pleasant warmth to the body as soon as the system is switched on. Infrared heat is constant, not reduced, lost or blown away with a breeze - as occurs with gas and electric heaters, resulting in a far more effective and cost saving use of the generated heat. Smallest size, maximum instant retained heat & lowest operating costs. Sort of a no brainer.
Tempura is a stylish round design and the Tempura Quadra offers a more architectural square design.

Weinor Exclusive Fabric + Frame Colours.
International Awards for Innovation + Design Excellence
Download our brochures containing all product details and and full technical specifications.
Exceptional Quality + Build Standards
Blinds by Peter Meyer & Weinor ensure:
Weinor cutting edge technology & build quality
Backed by Peter Meyer's 5 year warranty
Plus the Peter Meyer renowned level of service