Metropole. The ultimate Curtain Rod.
The Metropole curtain rods are in a class of their own and outshines its competitors in every way! Having no need for curtain rings, it combines the usability of a curtain track with the look of a curtain rod.
The uniquely designed 30mm curtain rod combines whisper quiet specially coated curtain poles with exclusive two-component patented 2C technology gliders and rollers, allowing the curtain to move smoothly and silently – providing unprecedented silence.
Available in hand operated 30mm round profile. Flush End Cap or Stud End Cap is standard in 5 colours with custom powder coats available on request. Top and Face brackets will accommodate all finial options, including a large range of optional decorative finials.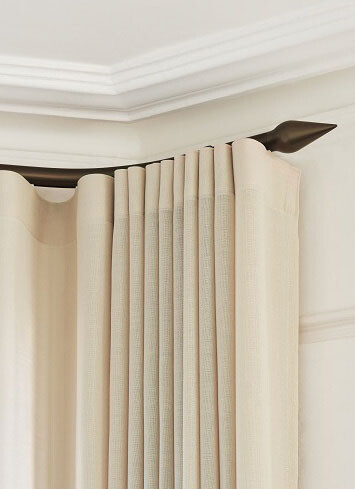 New Release
Metropole | Curtain Rod Systems
New Release
Metropole | 30mm | GS7610 | Formerly SG6130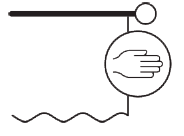 Operation
Hand
Product Information
Range: M-L
Fitting: Ceiling, Wall
Colours
Standard: Matt White, Matt Black, Silver, Gunmetal & Bronze
Custom Powdercoat: Generally cheaper + faster delivery times. White, Taupe, Chrome, Sand, Antique Bronze, Charcoal, Ochre, Ecru and Slate Grey
Optional SG: Indent only. Longer lead times. | POA.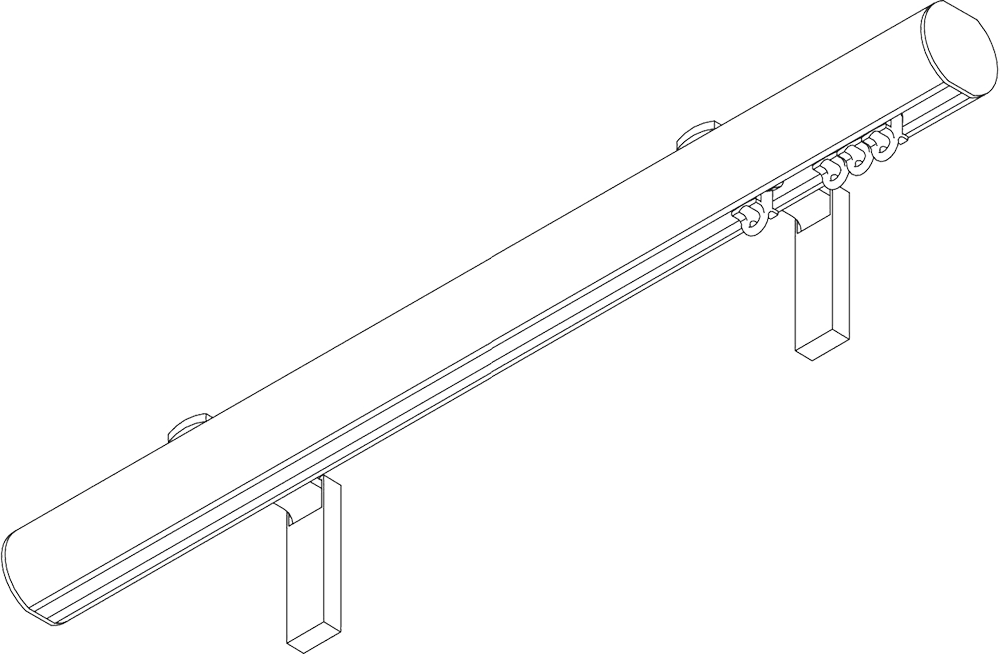 Metropole | Systems | Showcase

Metropole | SG7610 | System Specifications

SG 7610 | Profile + Bending

Radius: Std. Heading 30cm + Wave > 30cm
30mm aluminium profile | Made to measure
2-Component (2C) Glider Technology | Wave Heading
Standard | End cap or flush end cap
Optional | Wide range of decorative finials (Indent)
Matching | End caps and brackets + bracket covers
Ceiling Top fit | Using concealed top fix brackets
Ceiling Top fit | Using Pillar Style brackets (Indent)
Face fit | Using smart fix brackets
Bendable | Radius greater than 30cm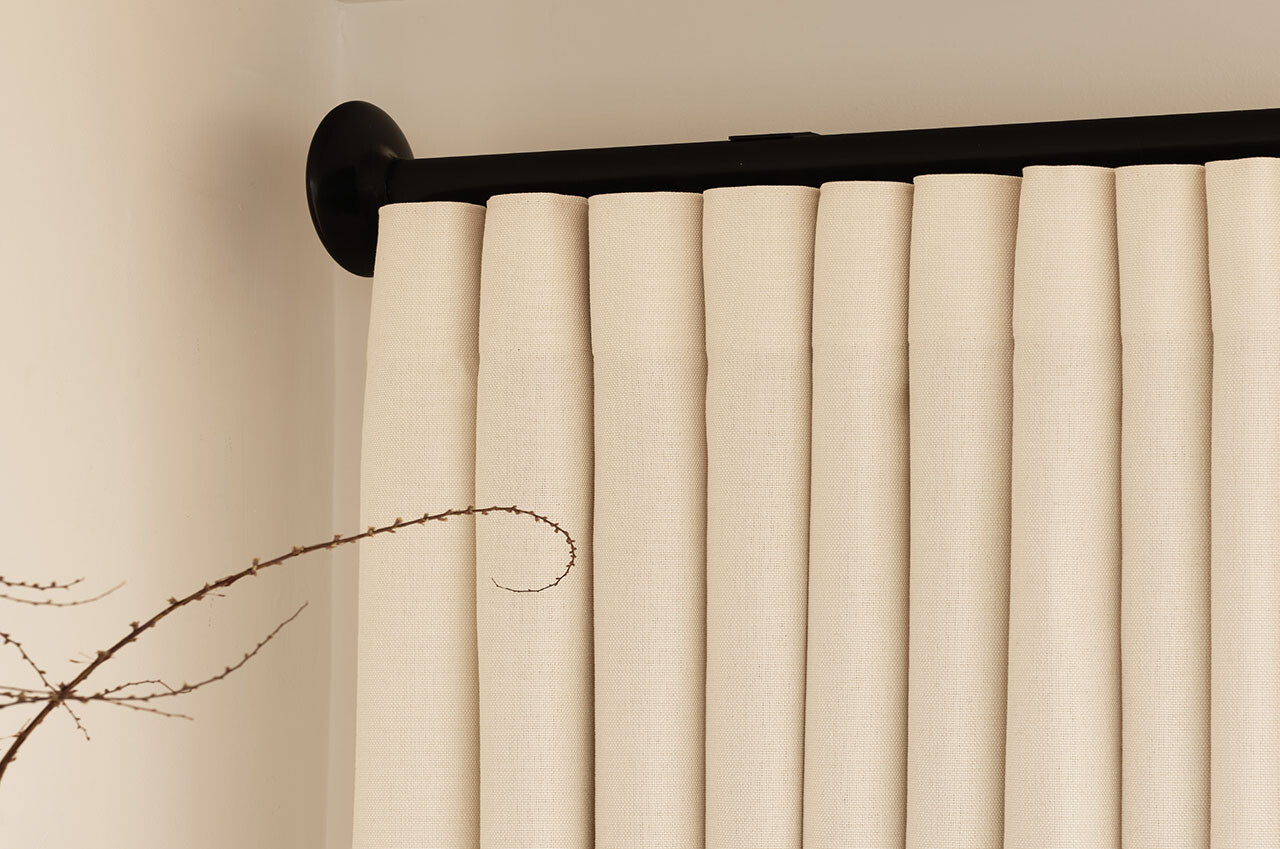 The precision engineering and stunning product design ensures this curtain rod performs at the highest level in both functionality and aesthetics thanks to the 2C gliders and the flawless finial collection that fits seamlessly to the curtain pole. 
New Release
Metropole | Finials + Endcaps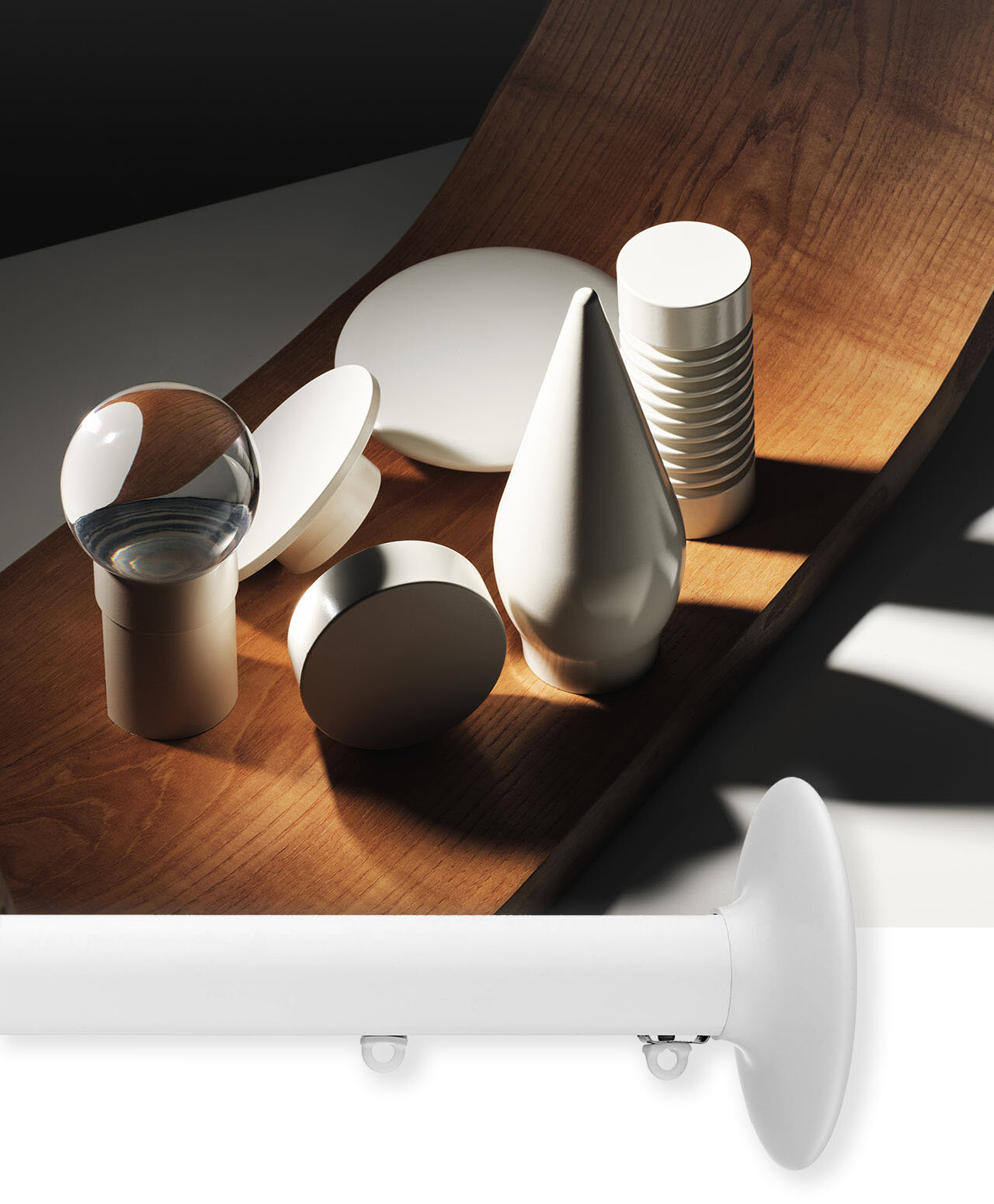 Finials
Finials are optional decorative elements that fit on at the end of the rod. Metropole finials are the epitome of style and elegance, and deliver the perfect finish to your curtain rods. We offer a wide range of designer styles, colours and finishes. Simple or statement. Our range is shown below.

Endcaps
Without finials, poles are supplied as standard with flush fitting endcaps SG 20346.
Alternatively, stud endcaps SG 20707 can be selected at no additional cost.
Create Your Unique Metropole Curtain Rod System
Select from our extensive range of components & design the individual Curtain Rod System to perfectly complement your design aesthetic. Choose your rod & pole shape, colour, finish, endcap, finial, wave heading, straight or custom bends to fit your exact needs. We offer a wide range of fixing options to cover every possible commercial or residential installation.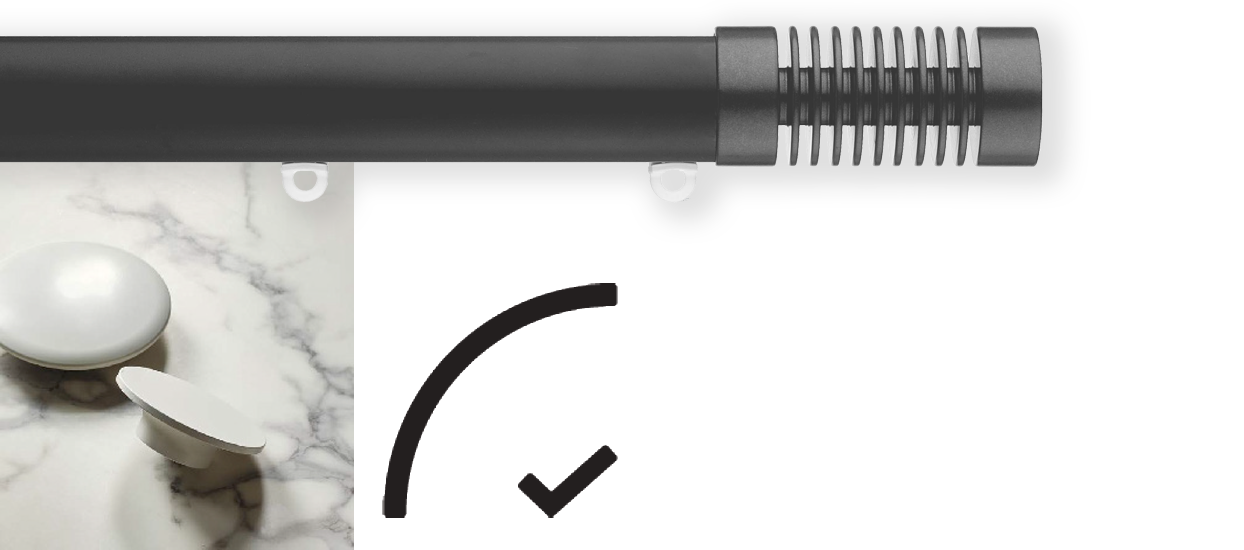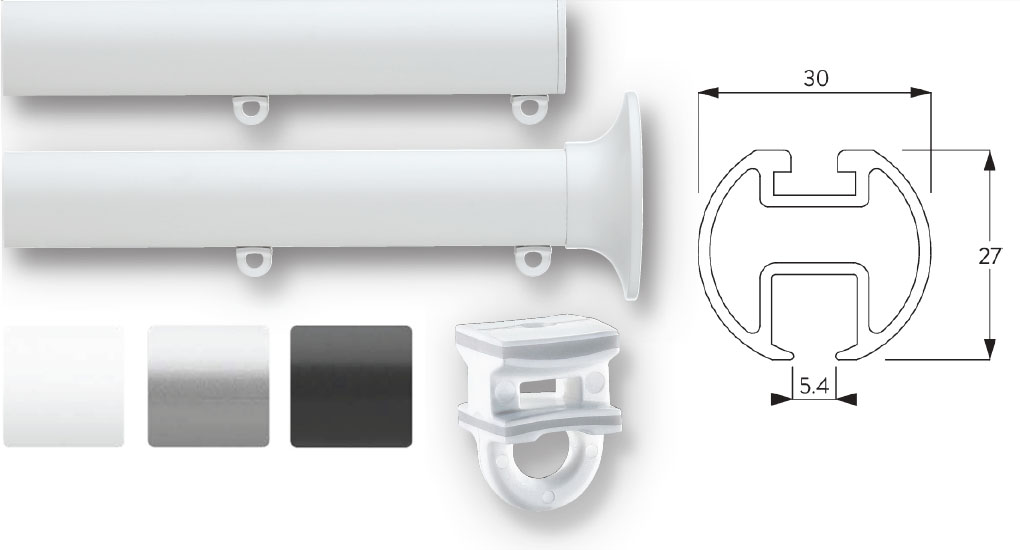 Just a few of the many optional Metropole design elements & colours available in the range.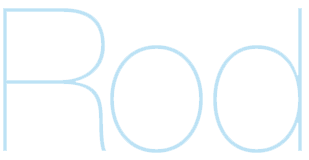 Curtain Rod | Size + Shape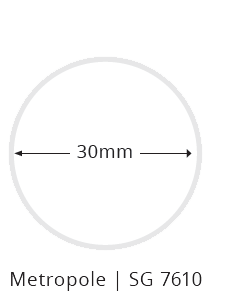 Curtain Rod | Standard Colours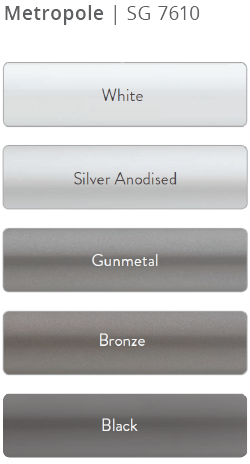 Optional Colours: Available Indent only with longer lead times POA.

Curtain Rod | Finial + Endcap | Style + Colour Options




Option | Groove Cylinder| Re-Designed

Option | Glass Ball Transparent| Re-Designed

Option | Spear | Re-Designed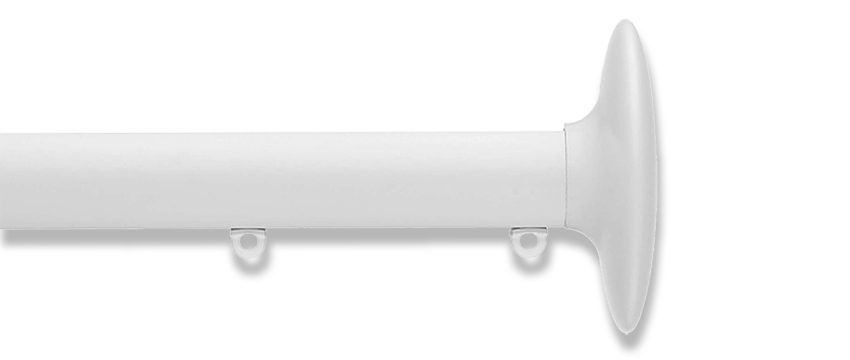 Finial + Endcap | Style
(As above)
Colour Options

Wave Headings | Silent Gliss Unique System with Patented 2C Gliders
Silent Gliss are the original wave curtain specialists. Transforming the way we see curtains, Silent Gliss developed a curtain heading system that was not only contemporary but created a smooth and continuous wave effect when the curtains were closed but also stacked back beautiful and straight when open. This is all thanks to the unique Silent Gliss gliders that restrict the extension of the fabric. There are simply no comparisons to the quality and craftsmanship of the original wave curtain by Silent Gliss.


Whisper Quiet | Silent Gliss Patented Technology
The 2C Gliders are manufactured using 2 materials. A hard component which ensures stability and a soft 'filling' to absorb and quieten operating noise. Combining the 2C Gliders with the Metropole & Metroflat Curtain Rods allows the curtain to move smoothly at a whisper level, providing unprecedented silence.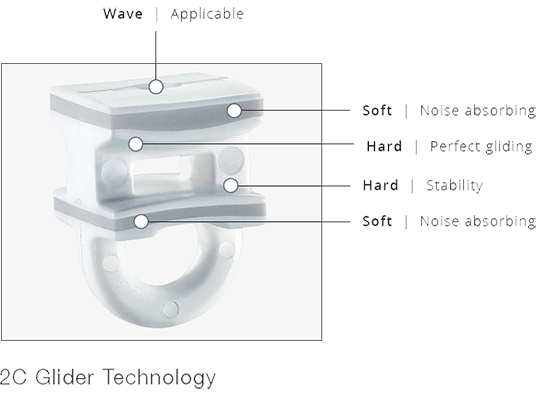 New Release | GS 2256 | Adjustable Brake
We are excited to introduce the new SG 2256 Brake, an upgrade to our current SG 2255 Brake which addresses the issue of "curtain creep" on our hand-drawn systems. The new brake features an additional aperture to securely hold the leading glider in place, effectively preventing the curtain from sliding forward.

It is compatible with all 5.4 and 6.0mm gliding channels, including systems such as SG 6010, 6100, 6243, 6380, 6465, 6840, 7605, 7610. The SG 2256 can be used with all curtain heading types that use hooks, including Wave and Swiss, and can be easily added to a track at any time.

Bending Specialisation | Residential + Commercial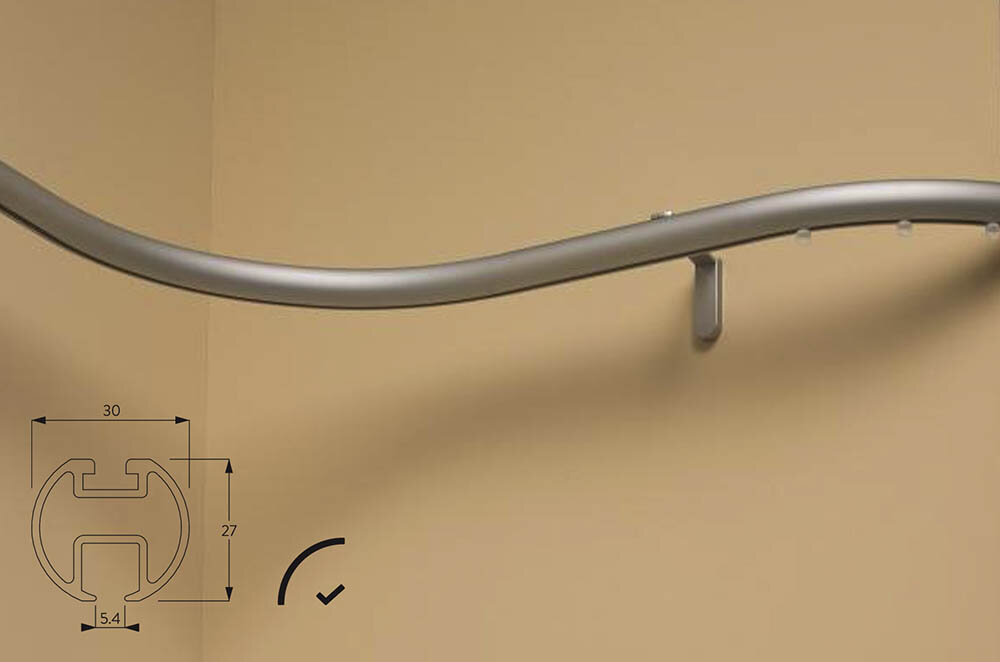 Known for our bending expertise, Blinds by Peter Meyer can forward or reverse bend the Metropole & Metroflat Rods to suit the most challenging installations, Commercial or Residential.
Using one of our 3 bending machines, including our power bender that uses hydraulics to bend the profiles as opposed to hand bending, We utilise superior techniques to ensure maximum gliding performance and efficiency.
The Metropole can be bent to radius' greater than 30cm. Suitable for most applications including Bay Windows and 90 degree corner windows.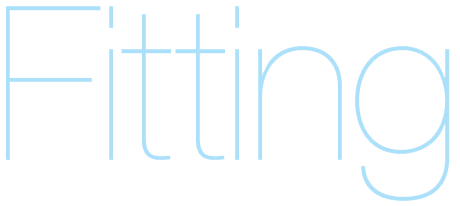 Extensive Range of Fitting Options
This section above shows only a sample of the options available.
Complete details of all options, sizes, connectors and all Silent Gliss reference names & part numbers are available
below for download.


Square Smart Fix with Slot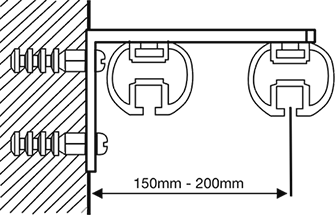 The Metropole range has the ability to be top or face fitted using the Silent Gliss smart fix brackets or concealed top fix brackets. The poles can also be bent in a continuous curve or angle radius – perfect for bay windows or other applications requiring various levels of curvature.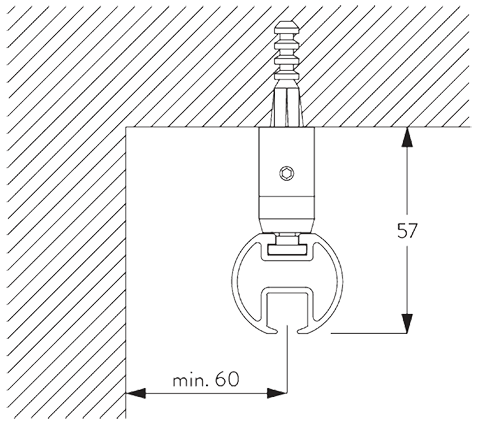 Exceptional Quality + Build Standards
We take great pride in our exceptional quality and build standards. Our LED lighting for exterior awnings and LED strip lights are rigorously tested to ensure they meet our stringent standards for durability and functionality. This commitment to quality sets us apart and provides our customers with peace of mind knowing they are investing in a product that will last.