September 2016 | Newsletter
The Year is Flying By!
I can't believe we are almost to September! This year is certainly flying. We are still buzzing from the BMAA Super Expo – what an exciting show! We were blown away with the response to our new collections hitting the shelves before the end of the year!
Simon  & Damien
BMAA Super Expo – STAND K175.
BMAA a huge success! A massive thank you! June 8-10th saw Blinds by Peter Meyer exhibit at Gold Coast Exhibition centre.
If we saw you, thanks for giving us your time. If you missed it, we really look forward to seeing you before the next one happens in 3 years. So, get in touch now and let us know you are interested and we will make sure we get one of our reps to visit.
IMPORTANT! Website Trade Only Section
In an effort to better serve our trade partners and to keep you more informed of our activities, we have created a members only section of our website that will house trade newsletters, online order forms, price lists, brochures and general updates such as current lead times, out of stock fabrics and discontinued fabrics. We urge you to register your details ASAP and stay up to date with all things Blinds by Peter Meyer.
New Brochures Products, Fabrics, Colours & Updates
Available Now!
New Head Box and Side Channel system available now. Contact us for more information.
September Launches!
This September we have a number of exciting launches, get in touch to find out more:
Signature Collection v3.0
Simply Cell/Simply Pleat
Stunning new remotes from Somfy
BASICS V2.0 Update 2015
The new BASICS V2.0 that was released almost 12 months ago has recently had a brand new update. Sonoma and Seattle are textured blockout and translucent fabrics that really lift the already impressive BASICS offer. New books are only $30 each and selling fast. We have updates for existing books in the market but I believe all have been updated. If we missed you, please get in touch.
Acmeda - D Rail
This great new modern bottom rail is now available with sound dampener strips in the back. The D Rail comes in Anodised, White, Black, Sandstone, Bone and Dune.
The surcharge for the sound dampener D-rail will be an additional $10/full metre at RRP in the Signature Collection ($23/full meter in BASICS). The standard D-rail is no additional surcharge when ordered in the Signature Collection but will have the $13/full meter if ordered within BASICS – Your normal discount applies.
Somfy Mylink
Looking for a great idea to contact all old customers who have ever bought Somfy RTS blinds from you? Now you can have all your blinds and awnings operate off an App on your phone (iPhone or Android). The My-links can be easily retrofitted and allows customers to operate their blinds from anywhere via their mobile phone.
Key Pricing Update / On Sale & Price Drops
Cedar Venetian Pricing
Last year we absorbed a substantial price increase from our timber supplier. Unfortunately, we have been notified of another 10% increase that we will regretfully be unable to absorb. All orders for 46mm and 60mm Cedar venetians will have a 10% surcharge on the blind price from September 1st 2016. We are working on a new pricelist, which will be out ASAP. In the meantime, please bear this increase in mind when pricing up Australia's finest Cedar venetian blinds!
XL50 Special Discount – Huge Savings!
Our exclusive 50mm pleated blinds – XL50 is having a massive sale! We are offering 60% off our normal RRP for supply only jobs. This will give everyone the opportunity during the busy season ahead, to run a special on the product! Remember these can come in Manual Cord Operated, Top Down/Bottom Up, Mono Control and Motorised. Please get in touch if you need a new swatch book.
Weinor Conservatory Awning Going Cheap!
We have 1 x WGM 1030
WGM1030 – 1590X3420
FABRIC: WE3-597 PLAIN ANTHRACITE
RAL WT029/71289, motor left
RRP $7604
Happy to take offers over $3000 + freight
Become part of the Weinor success story with us!
By far, Weinor has been the most successful product launch we have ever had. We have secured some amazing dealers but are still looking for more right across Australia.
Contact me now If you are in QLD, VIC, SA, NT, WA or TAS and want to start selling the most exciting new quality folding arm awnings and retractable roof systems in Australia. We have 1 Point of Sale (POS) display still available with 4 motorised folding arm awnings with LED light and heaters for only $10k plus delivery.
Weinor Modern Basics
A stunning new swatch of 16 colour is available with perfect on trend textures and colours for all our Weinor range of awnings.
Books are $150 each but make selecting fabrics a breeze!
Weinor - Oversized awnings
Due to excessive airfreight charges, we can no longer airfreight awnings that are between 6680mm-7000mm. These awnings will now need to come via sea freight. Please allow approx 10weeks for delivery (rather than the normal 6 weeks) for these larger awnings. Anything over 7000mm will be split into 2 awnings so can still come via airfreight!
Awnings to be seafreighted will be:
Semina awnings 6680-7000mm wide.
Livona & Topas – between 6680-7000mm width
Over 7000mm width means these 2 awnings come as 2 sections anyway, which makes them smaller so they won't be affected. If in doubt, please call and speak to us.
Back In Stock & Discontinued
Jardine Coppermine Interior Fabric Back In Stock
WE FOUND SOME ROLLS!! In the last newsletter we discontinued this weave in Roller and Roman but we uncovered a few rolls still left!
XL50 Fabric Discontinued
The Natural fabric (printed Leaf design) is no longer available in our XL50 range.
Wide Ladder Tape Discontinued
Wide ladder tape has been discontinued from all of our Timber and Aluminium venetian ranges due to supply difficulties. Our suppliers are no longer supporting Wide ladder tapes and as such we can only use ladder string on all Timber and Aluminium venetians.
MOTOGLIDE Motorised Panel Tracks Discontinued
We have exhausted all our motors now and won't be reordering. This system will now be discontinued. Manually operated Panel tracks are still available!
Current Lead Times Online
As mentioned above, the new Trade Members section will not only have all the latest brochures, newsletters and price lists, it will also have an up-to-date lead-time for production. Of course it can't account for fabric out-of-stocks BUT at least you can expect a call if this ever happens!
Exterior Roller Lead Time – We've Been Working To Improve This!
We have been listening to our customers and understand your frustration with longer lead times on exterior rollers. To this effect we have been working on our processes and have started to see a real impact on our lead times. Whilst this product still takes time to get produced due to its technical nature, you can now expect standard powder coat colours in 15 working days and custom powder coat coloured orders in 20 days. We can reduce this further for special orders but please give us notice to check current volumes.
Motorisation Reminder
Please remember that as part of our Signature Collection offer, we will programme all motors to the remotes you order, just let us know which channels you want what blinds on! BASICS motorised blinds will NOT come with the motors programmed.
Reworks and Warranty Work
We now have a new procedure for retuning any blinds that need to be reworked or are under warranty. Please note all blinds need to be returned to us with a completed "reworks" form. These are available in our despatch area or can be emailed if you are returning goods via courier. This is in an effort to service these enquiries faster. Our goal is to have most reworks turned around in under 5 days. Custom painting or ordering fabric, may delay this slightly.
Specification/Quotation Register
We have had a few jobs recently where we have been specified as the supplier on some residential apartments and commercial jobs. If you are out getting our products specified, THANKYOU! However, if we don't know that you have done the hard yards and we get contacted by the builder, we don't know to forward to enquiry back to you. To ensure you get preferential support for specifying our products, please ensure we know what jobs you are working on. We will keep this in a confidential Specifications/Quotation Register.
Order Confirmations
We have recently implemented an order confirmation fax stamp. All orders received via fax will now be returned with this order confirmation stamp and a date so you know we have received them. When emailing orders you should already get a reply email saying "Received". IF YOU DONT GET A CONFIRMATION, PLEASE CONTACT US TO CHECK RECIEPT.
Simply Naturals - Silk Road & Chinois Eclectics
Natural shade variation is part of their charm. As with all product you must expect natural batch variation, this is a little more prevalent in the Silk Road and Chinois Eclectics range as they are made from Bamboo, Ramie, Rattan, Jute and Seagrasses; which can vary in colour depending on their age, the season they are harvested and the climate prior to harvesting. Please inform your customers that the weave they receive may not match 100% to the weaves in the sample folder.
Rustic Beauty is why the product is so popular; please don't expect it to perform like a roller blind. The product will have more natural variation in it than some customers may appreciate. Please ensure your customer understands that these fabrics are all hand loomed. Each 15m roll takes 3 days to weave and this is why they are at the upper end of our product pricing.
Interior Product of the Month
Simply Pleat and Simply Cell
We are very excited to release the new Simply Pleat and Simply Cell products. Books will be available Mid September! When it comes to cellullar and pleated blinds, this is the most comprehensive offer on the market. Motorised, Manual, Skylights, Shaped, Day/Night and Child Safe options are all available! Enquire now to get on board early! Books are strictly first come first served.
Exterior Product of the Month
Cassita LED From Weinor
By far the best seller in the Weinor range after just supplying 157 motorised awnings to Walsh Bay in Sydney and a further 10 just ordered for Australia Fair Metro in Brisbane! Make this the year to learn about why Weinor is having such an impact in the Australian Market.
3D rendering helps secure Australia Fair contract. Weinor can provide 3D rendering off high resolution photos and show your customers how the awnings will look on their building. Costs are about AUS$385 but are well worth it when you see the results!
Customer Photo of the Month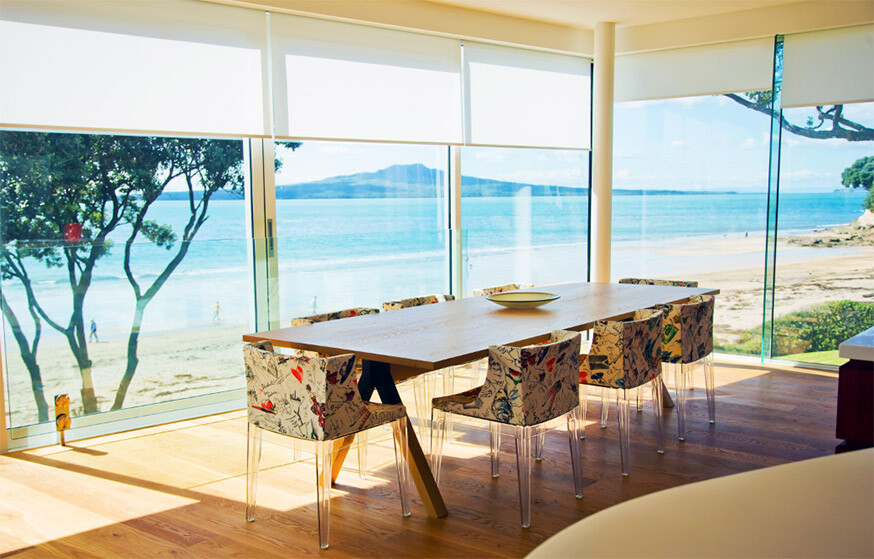 Our New Zealand agent has had Blinds by Peter Meyer window coverings showcased in a renowned New Zealand architecturally designed house by Bossley architects. The finished shots look amazing, not a bad location either!
Have you got a shot you think is worthy of being showcased here? Please send it in to us.
JOIN OUR NEWSLETTERS
New Product launches, trends are more.